The 35MM full-frame equivalent lens is likely the most popular focal length of all time, and manufacturers keep developing amazing lenses with this field of view. It's also perhaps the perfect focal length for travel purposes. In this comparison, we'll look at a number of 35MM equivalent lenses from across the price range in Leica M Mount and Fujifilm X and G mounts.
We will compare the Leica 35MM Summilux F1.4 FLE (Summilux), the Fujifilm Fujinon GF45 F2.8 (GF45) and GF50 F3.5 (GF50), and the Fujifilm Fujinon XF23 F2 (XF23). Please note that this will not be a review of each lens, but rather a comparison; a more in-depth review of each lens is on the agenda for future posts.
Introduction
Leica 35MM Summilux F1.4 FLE
Perhaps the most famous 35MM lens ever made is the original Leica Summilux F1.4; it was introduced in 1960 and was at the time, and perhaps still is, the smallest 35MM lens ever created with an F1.4 aperture. It became a favourite for journalists due to its small size, wide aperture and robust construction. At F1.4, the original lens has aberrations which many talented photographers used effectively for artistic effect, and became known as the "Leica Glow".
Fast forward to 2020 and this lens has evolved into the Leica 35MM Summilux F1.4 FLE (The FLE is for "Floating Lens Element" to help with close focus performance). I bought this lens along with the Leica M10 in 2016 and have been learning how to use this little engineering marvel ever since. When purchased in 2016, it was a US$4,995 lens, but in today's asset inflated market, it's now being sold for an unbelievable US$5,895!
In the context of this grouping, and perhaps any 35MM equivalent lens, the Summilux is a tiny lens; it has some heft to it, but it's still incredibly small. When a lens is this small, there are always some tradeoffs, typically evidenced in corner performance and vignetting. However, at US$5,895, we should expect some of that money to have been spent on world-class engineering, precise manufacturing, and careful quality control, in the hopes that these compromises can be limited.
Fujifilm Fujinon GF45 F2.8
The GF45 is the lens that I recommend as the first to buy for the Fujifilm GFX series cameras, putting it ahead of the more versatile GF32-64 F4. The GF45 has already earned a tremendous reputation as being a stellar lens. In a recent comparison I conducted, the GF45 lived up to the lens' reputation with excellent sharpness and contrast across the frame, from wide open, right up to F16, when diffraction sets in.
Fujifilm Fujinon GF50 F3.5
The GF50 is not technically a 35MM equivalent, but it's so close that I think it's fair to include it in this comparison. Taking a few steps back will get you the same field of view, and with its compact size, it makes for a great companion lens to the smaller GFX bodies like the 50R and 50S. Recently, Fujifilm put out an astonishing promotion with the GF50 at 50% off, which makes it a no-brainer to add to your camera bag. Beyond this comparison, you can also find a more extensive review here.
Fujifilm Fujinon XF23 F2
Much like the Summilux, there is something special about how the XF23 feels in hand. It has a tank-like build quality that gives the impression it will survive a heavy fall and will last for decades to come. When I've loaned this lens to friends, they often remark that it feels "jewel like". The tight packaging, weather sealing and perfectly weighted aperture ring go a long way to explaining this feeling.
The XF23 F2 is the younger brother to the excellent and highly regarded XF23 F1.4. The F1.4 lens is known for its classic rendering, clutch focus mechanism, and unfortunately, clunky autofocus performance. The F2 lens has none of these features, with a modern, razor sharp rendering, regular focus ring, and super fast and silent focusing. In many ways, the F2 is a superior lens, and the only choice if you require weather resistance.
Test Results
The Summilux was tested on a 24MP Leica M10, the GF45 and GF50 on a 50MP Fujifilm GFX 50R, and the XF23 on a 24MP Fujifilm X-Pro2. A Sirui carbon tripod was used for each shot along with a flash to keep shutter speed consistent. All cameras, lenses and the tripod used in this test were purchased at full retail price from vendors in Hong Kong.
Centre Test Result
This test chart comparison is best viewed at 100%; however, to make it easier to discern a difference, viewing it at 200-300% will make the differences more apparent. Focus was acquired on the centre of the test chart which is also the circle used in the crop below. A link is provided below the image for the high resolution version.
Corner Test Result
The test chart comparison is best viewed at 100%; however, to make it easier to discern a difference, viewing it at 200% will make the differences more apparent. Focus was acquired in the centre of the test chart (same as the centre test) with the edge crop taken from the same image; focusing on the edge may provide a better result. A link is provided below the image for the high resolution version.
Bokeh Test
For the bokeh test, the focus point for each camera was placed on the forehead of the elephant targeting the larger flower. For the Fujifilm cameras, autofocus was used to establish a starting point, and then manual focus was used to confirm that the autofocus had acquired the best possible focus. For the manual focus Leica, live view was used with focus peaking. The priority for this test is not sharpness, but rather bokeh quality and appearance.
Performance Evaluation
Leica 35MM Summilux F1.4 FLE
Centre Performance
The Summilux does better than expected wide open, given its diminutive size and large F1.4 aperture. When I share images from the Summilux, I often get asked if they're from the GFX. I think the lens' good performance wide open is the reason people mistake it for medium format. In the test chart, there is some haziness at F1.4, but it's only really noticeable when compared to its own stellar performance at F2 and beyond.
At more moderate apertures of F2 and higher, the Summilux improves and provides for excellent sharpness and contrast. Peak sharpness appears to arrive at around F5.6, and holds strong until just after F11 when diffraction effects become apparent.
Edge Performance
The performance at the extreme edges of the test chart show a similar pattern to the centre. At F1.4, there is a reduction in the contrast with some mild haziness. There is also significant vignetting as can be seen in the test chart comparison. This is easily correctable in post processing, or in most cases, can be left alone to add some visual drama to the subject. At more moderate apertures of F2 and beyond, the Summilux comes into its own and produces exceptional sharpness and contrast right up to F11.
There is nothing to complain about here and lots to be excited about. It appears the high cost of this lens has been put to good use in ensuring high performance across a broad range of circumstances, in a very small and relatively light package.
Bokeh
The main reason people buy the Summilix is for the excellent subject separation and bokeh that you get from a F1.4 wide angle lens. Having a wide field of view with a shallow depth of fields gives images that "medium format look". The Summilux does not disappoint with creamy and nice looking bokeh, while maintaining a sharp in-focus subject. The drop off from the plane of focus to the defocused is beautiful and dramatic. There is however some onion-ringing to the bokeh if you view the image at high magnification.
At more moderate apertures of F2 and beyond, the bokeh takes on the shape from the aperture blades, and to my eyes, is not particularly pleasing. I can't say that I've noticed this in the three years I've used the lens, but when viewed at high magnification, it's not particularly pretty. But then, who pays US$5,895 for an F1.4 lens and then shoots at F2 or slower?
Fujifilm Fujinon GF45 F2.8
Centre Performance
The GF45 is beyond reproach in the centre starting from wide open at F2.8, with the kind of sharpness that can leave your eyes bleeding if you're not careful. This lens has to be in the top three sharpest lenses I've ever tested; it sits at the very top, right up there with the GF110 (review coming soon). Fujifilm really knows how to design incredible lenses!
At more moderate apertures, the GF45 goes from strength to strength and continues to increase in sharpness and contrast, peaking around F5.6 to F8. You can confidently use this lens from wide open to F16 and not worry about any issues.
Edge Performance
Again, the performance is pretty much flawless with great contrast and sharpness from F2.8 and up. There is a noticeable step up in contrast from F2.8 to F4, however you would never notice this in a typical image; it's more apparent in the test chart than reality. The lens really shines from F2.8 up to F11, after which diffraction effects start to become apparent. Peak sharpness and contrast appears to be around F8 at the edges.
Bokeh
The GF45 produces beautiful, creamy, and perfectly round bokeh at F2.8 with minimal onion-ringing. The only negative is a bit of purple fringing in the high contrast bokeh balls. The drop off from in-focus to defocused is very aggressive and rapid. It gives the impression the lens has a shallower depth of field than the F2.8 would indicate. The bokeh continues to look good throughout the aperture range.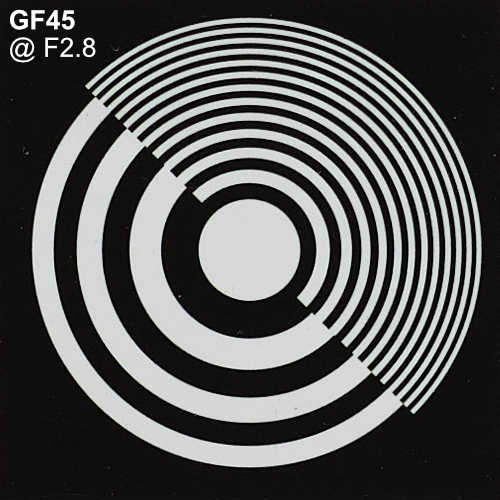 Fujifilm Fujinon GF50 F3.5
Centre Performance
Like the GF45, the GF50 is also very sharp in the centre, albeit a small step behind. It gets very close to the GF45 by F8, but never quite matches its older, larger, and more expensive sibling. Sharpness and contrast are excellent across the aperture range with a peak around F8.
Edge Performance
Being a pancake lens, there will always be compromises somewhere and it shows up here in the edge performance. The GF50 never gets the bite in the corners that it has in the centre, but that's more a testament to how good the centre really is. If you stop it down to F8, you'll never be able to see this compromise in action in any real photographic image.
Bokeh
You wouldn't normally expect an F3.5 lens to have bokeh, but because of the larger sensor in the Medium Format GFX series, even F3.5 can produce beautiful subject separation and bokeh. The GF50 follows in its older sibling's footsteps and delivers excellent bokeh balls and a great in-focus to defocused transition, with the subject remaining razor sharp.
Fujifilm Fujinon XF23 F2
Centre Performance
The XF23 has good performance wide open, but there are some aberrations apparent at close focusing distances between F2 and F4. In this company, and in a test chart environment, the XF23 can't quite keep up. However, in all the images I've taken with this lens, with the exception of the close focusing issue, I've never felt that its performance is lacking in any way. It produces tack sharp images with a modern rendering.
At more moderate apertures, the XF23 sharpens up nicely, reaching its peak at F4. Even at its peak, the XF23 is unable to match its closest rival, the Summilux, which was also tested on a 24MP camera. Given that I also own the F1.4 version of this lens, I should pit the two against each other and also have a rematch between the Summilux and Fujifilm's F1.4 version of the 23MM.
Edge Performance
The XF23 does quite well in the corners, almost matching the Summilux at F2. There's some vignetting but this is easily correctable in post-processing software, without introducing any significant noise penalty. In regards to contrast and sharpness, things definitely improve at more moderate apertures with corner performance peaking at F5.6.
Bokeh
Fujifilm really knows how to engineer beautiful rendering lenses and this little inexpensive wonder is no exception. It produces beautiful bokeh, just like its newer G mount siblings. Bokeh looks great from F2 right up until F4; beyond that, there's a bit of fringing, however this would only be visible in high magnification circumstances.
Conclusion
Having used all of the above lenses for months, and in some cases, years, I had some assumptions going in about how things would turn out. I expected the GF45 to be the sharpest, the Summilux to be right up there in sharpness with the medium format lenses, while beating them in bokeh, and the XF23 to put in a giant-beating performance on par with the GF50. That's not however how things turned out.
The GF45 did turn out to be the sharpest, as expected, but it also appears to have won out in having the most beautiful and creamy bokeh; it matches the Summilux, even though it doesn't have an equivalently wide aperture in terms of depth of field and subject separation (the F2.8 on 33MMx44MM medium format sensors equates to F2.2 on 36MMx24MM full frame sensors according to the excellent Photopills app).
With its intense price tag, and based upon two years of using this lens, I expected the Summilux to be tack sharp from wide open at F1.4 through to when diffraction effects become apparent at around F11. However, the Summilux disappoints a bit at F1.4 with a slight haze; interestingly, I've never noticed this haze in real images, with it only becoming apparent in the test chart comparison. The Summilux however does not disappoint at F2 and beyond and even surprises with its strong corner performance, given its diminutive size.
Never miss a post again, please subscribe to our no-spam mailing list
So that leaves the GF50 and XF23. I love the XF23, and some of my favourite images which proudly hang on walls in glorious A2 or larger sizes, were taken with this little jewel of a lens. I expected it to demonstrate very high sharpness and beautiful creamy bokeh, on par with the GF50. The GF50 is essentially a 26MM F1.8 equivalent on the 22MMx15MM APS-C sized sensor that the XF lenses are used on. It's quite a close comparison, albeit with a slightly tighter field of view for the GF50.
Perhaps it was asking too much of a $449 XF lens to match up to a $999 GF lens, but with the recent 50% discount on the GF50, the comparison is more apt than ever. People may not cross-shop G-mount and X-mount lenses, but the value proposition from a company should match across its product lines. In this instance, the GF50 outperforms the XF23 in all regards. The sharpness of the GF50 is surprisingly close to the GF45, and because of the slightly longer reach at 50MM, the bokeh is quite impressive too. Furthermore, its close up and corner performance are excellent especially when you take its small size and weight into consideration.
The XF23 never quite gets into its stride in this tough crowd, but I still love it for its size, fast focusing and weather resistance. In hindsight, I should have pulled out the XF23 F1.4 to better compete against this group of fine lenses. Perhaps that can be a topic of a future post. For now, the XF23 will leave this comparison a bit on the shy side, having demonstrated somewhat poor performance at close focusing distances below F4, both in the centre and in the corners. I should note that when I was primarily shooting with the X-Pro2, the XF23 F2 was my daily driver and I loved it for that use.
Rankings
A comparison needs to have stack ranking, and you'll find that below. I ranked them based on Sharpness, Bokeh and Value. Let me know if you agree with the assessment below based on what you see above or from your own experiences in using these lenses. Would you rank them differently?
Sharpness
Bokeh
Value
1. GF45
2. GF50
3. Summilux
4. XF23
1. GF45
2. Summilux
3. GF50
4. XF23
1. GF50
2. GF45
3. Summilux
4. XF23
I hope that you've found this comparison useful. I appreciate that not everyone will be cross-shopping this set of lenses, but I get enough questions to compare them that I thought it worthwhile to invest the time to conduct this test and evaluate the outcomes.
If you've found this post useful, please feel free to share on your favourite forum or social media.