Gear related posts on this site generate 10-50x more views than travel photography related posts. There are a number of reasons why this is likely, but today I want to discuss how little of an impact gear actually makes on travel photography.
I'm very fortunate to know a very talented photographer. We travel to the same spots, stand in the same positions and take what I believe to be the same compositions, but when we (and pretty much everyone else) look at the finished product, we find that his images are far more compelling than mine.
In this post, we will share some incredible travel photography from wanderinglass.com, compare images taken from the exact same location and moment in time, learn from these examples, and very likely conclude that photography gear is secondary to skills when it comes to good travel photography.
The very talented Wanderinglass.com
The founder of wanderinglass.com is Julian Yu, an Actuary living in Hong Kong. He comes from a family lineage of photography talent, with his father having been selected by the Chinese government to document and capture images of far flung locations from across China.
His father carried big and heavy medium format Hasselblad and Contax 645 film cameras around the vast country to the most remote locations, to capture its stunning, and often overlooked, beauty. His father's endeavours were so successful that the Chinese government issued a 200 page photo book of his work.
His father's work was timely as the country underwent an astonishing and unprecedented transformation soon after. His work will live for eternity and serve as a memory of what China looked like before the rapidly changing country took off.
With that influence at home, Julian took up photography quite late in life (in his 30's), mostly as a way to document his travels. It became apparent rather quickly that he had talent with many friends asking for prints of his images. On Instagram, it's quite common for people to re-gram his work leading to thousands of likes on the re-grammer's page.
Julian started with a Fujifilm X-T10 and quickly moved up to an X-T2. I think some of his best images were taken with the lovely (and still) capable X-T2. Soon after, a Leica Q found its way into his bag. The Q didn't last long and was replaced with an M10. With the lure of higher resolution, he switched from the X-T2 to the Sony A7R3, and now the A7R4. He still uses (very effectively) the M10, along with the A7R4.
Images taken at the same place and time
Sprinkled throughout this post, I've shared some of my favourite images he's taken, including the ones that we'll use for the comparisons below. Below we'll see how composition and post processing can make a huge difference to the emotion, feel and quality of the image.
Example #1: Bagan, Myanmar
The two images below were both taken in 2016 in Bagan, Myanmar. It's one of the most incredible places we've visited thus far and have many fond memories from there. The images were both taken with Fujifilm X-series cameras at exactly the same time and place.
We stood in the same place and took the same images, but I think it's fair to say that wanderinglass's image is much better. He framed the pagoda better, which I think many people would have done, but what I think really makes his image a big step better than mine is the timing of including the bus in the image.
I recall when taking the image that I did everything possible to cut the road out of the composition because I thought it would take away from the image. However, after having seen what wanderinglass did with his image, I regret cutting it out.
Example #2: Florence, Italy
We went up to the top of the Duomo and had every angle available for us to capture. I took the usual tourist images and captured what I thought was an interesting composition with a vertical image creating the "V" shape at the bottom. With it having just rained, the colours were deep with wonderful contrast.
However, when we got back to the hotel and I saw the stunning image wanderinglass captured, I was awestruck at how I totally missed seeing his composition. Oddly, I remember standing there looking at the curving roof and admiring its beauty, but I never thought to capture it in the way he did.
Example #3: Taj Mahal, India
We woke up at 4AM in order to reach the Taj Mahal at 5:30AM and lined up to enter right before the sunrise. With the other keen early risers, we rushed to the famous spot to capture one of the world's most photographed buildings. We only had about a minute to take the image because a lineup forms behind with everyone clambering to get the perfect straight on image.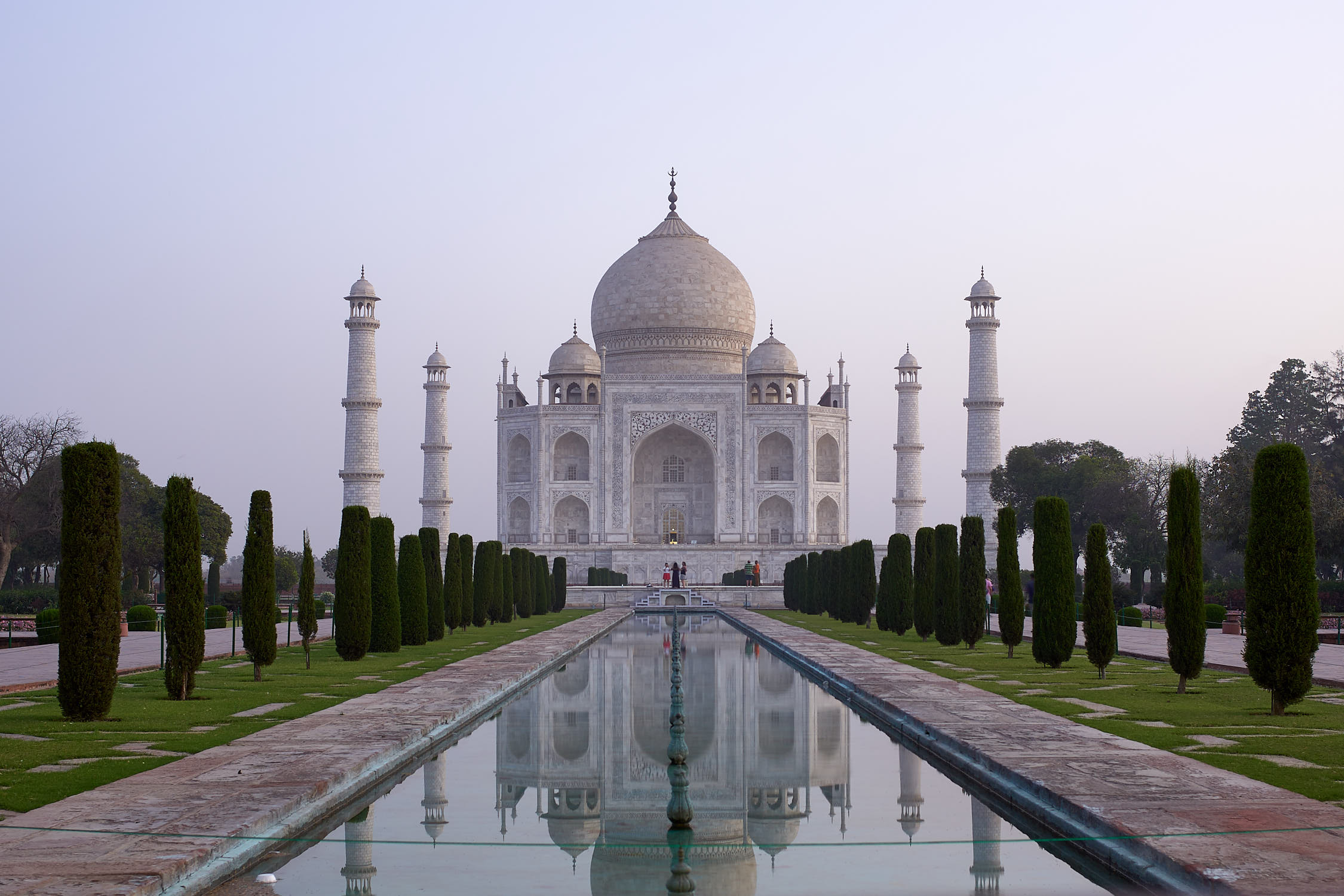 Even with all the obvious clues the designers put into place, I still managed to make a mess of the alignment of the pillars in the pond. I had to use the Mesh tool in Affinity Photo to make them semi-straight. Worse of all, I composed the image too low and cut off the reflection of the Taj Mahal in the water.
In comparison, wangeringlass's image didn't require any adjustments to the pillars, and he captured all of the reflections perfectly. Furthermore, he did a better job with the post processing by brightening up the Taj Mahal to make it look more like how it did in real life.
Learning from these examples
Using the examples above, I asked Julian about the process he uses to take images. I also observed him in action to see how he captures his images and his approaches. There are three major differences I noted in how we approach photography, and I hope that the contrast between them can help you in your travel photography as well.
1. Research the location before arriving
I hadn't realized how much homework wanderinglass conducts before we arrive at a photography location. Given how many locations we visit in the year, I typically just show up at the location and then look for some obvious compositions first, and then try to identify something unique after that.
In comparison, wanderglass invests time to look at Flickr, Google Images, and a number of travel photography blogs to identify the images that others have already taken. He researches the focal lengths used, the time of day, and the angles people have tried. He uses apps like Photopills to determine where the sun will be at any given time of the day.
2. Be patient when taking the image
I think this is the area where I fall behind the most. Because tourist spots are usually pretty busy, I tend to be overly courteous by quickly taking the image and then getting out of the way. While the extra 30 seconds may be appreciated by the person waiting behind me, leaving a great location with a memory card full of bad images makes the well intentioned sacrifice seem foolhardy.
When observing wanderinglass in action, I noticed that he's in a zone when taking images. He knows the compositions he wants and he puts in the extra effort and time to get them. Whereas I'll take the easy shot and move on, he will wait patiently for the perfect spot to become available. Once he's positioned in the perfect spot, he won't leave until he's gotten the images he had in mind.
3. Post process the image to how it made you feel
I strongly believe that an image presented in a travel blog should represent how an average person would see it for themselves when they travel to that location. However, when post processing an image for pure reality, something seems to get lost in the process. The emotion or feeling seems to get lost or at least greatly reduced.
When I look through our travel images, I feel a deeper connection to wanderinglass' and feel more "in the moment". I think by using more saturated colours or a bit of hyper realism, it somehow captures more of the way we felt when we were there. Right after the trip, to my eye, his images look oversaturated and over processed, but when I look at them months or years later, they evoke memories closer to how I felt when I was there.
Fujifilm's engineer in charge of colour for over 50 years, Minami-San, has a very interesting take on what he calls "Actual Colour" and "Memory Colour". If you want to gain additional insight on this interesting topic, I recommend watching the video below from photographer Elia Locardi who visits Minami-San at Fujifilm in Japan.
Conclusion
After digging deeper into wanderinglass' approach to taking images, I've come to the realization that I've been so focused on learning the gear that I haven't been taking the actual process and skills of photography seriously enough.
Going forward, I intend on investing more time on researching the locations, being patient in order to get the image I want rather than the image I can easily get, and, while this will be very hard for me, I'm going to consider alternative approaches to how I post process my images.
When we take into consideration the above, does this mean that we shouldn't buy any more gear? I think the rationale side of us would say that we should focus on our skills and our processes…
…but then what's the fun in that? I don't think improving skills or acquiring gear need to be mutually exclusive; we can buy new gear, while improving our skills and process.
I've always wondered how amazing photographers conceive and execute on their vision for images. I hope the above insight was useful on how a great photographer goes about getting his image.
I'd love to hear your thoughts, was the above helpful? What's your process? You can write in the comments section below (doesn't require signing up), and please consider subscribing to our no-spam mailing list where we keep you informed of new posts.
Never miss a post again, please subscribe to our no-spam mailing list