Beijing is known for a lot of interesting things like its stunning historical architecture, or its concentration of a handful of people who provide oversight and direction to 1/5th of humanity, or more recently, the high levels of pollution that gets trapped in this city surrounded mostly by mountains.
Thankfully, the government has made good progress in reducing pollution, with many more blue sky days than in the past. However, there are times you just want to get away from the big city, the noise and the pollution and head out to the countryside. Many people who visit this crazy city of 25 million people don't realize how close tranquility really is to Beijing.
Heaven just outside of Beijing
Within a 2.5 hours drive from Beijing's CBD is a small restored town called Gubei Watertown. And 30 minutes away from Gubei is Jinshanling, which I've covered in the past. This post will be primarily for Gubei, however I can't resist sharing a few new pics from Jinshanling, which I also visited on this short weekend trip.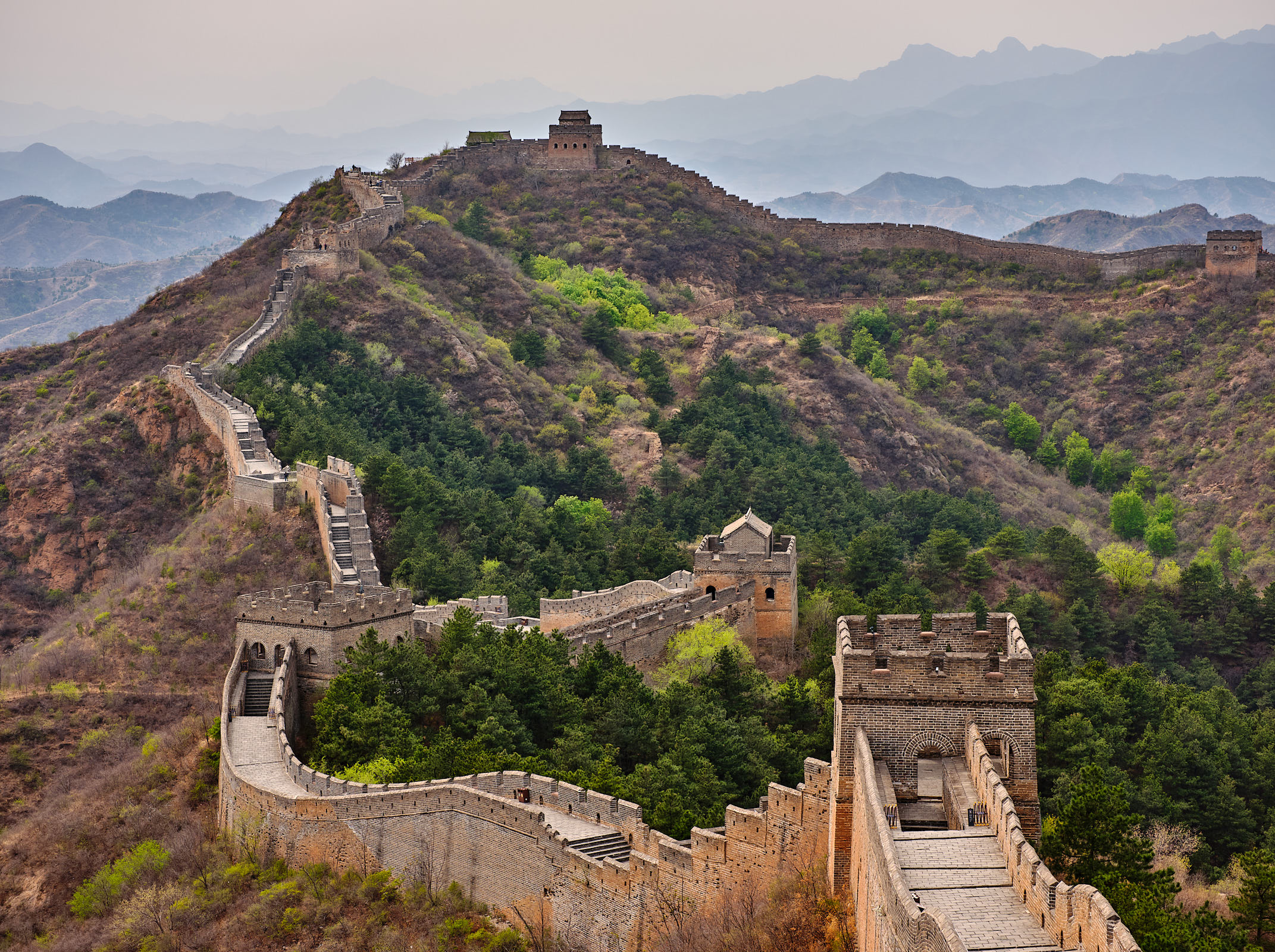 Gubei Watertown
Gubei Watertown was built less than six years ago and uses old construction materials which have been, wherever possible, re-used. The style of the buildings is traditional southern China, with lots of natural materials used like brick and wood. During the day, it looks rather bland with all the grey, but at night, it comes alive because of the extensive and beautiful lighting used throughout the town.
Besides getting away from the big city, why would someone go to Gubei rather than going to more famous places like Tianjin or Chengde? Because of the very convenient and easy access to the Simatai section of The Great Wall of China from within the town. They've essentially designed the town around the access to The Great Wall and it makes for a rather excellent experience.
Several good hotels
I've been to Gubei twice before and stayed at the Wangjing Hotel which was very good with an excellent restaurant. For this trip, I wanted to stay somewhere more modern and chose the Hangu Villa Boutique which features a Japanese design. We booked the deluxe suite which was huge and well appointed. The view included a part of Simatai which was a nice bonus. If you want to be in the thick of the action, the Wangjing is better located, whereas Hangu is up the hill a bit and requires some walking or taking the hotel-provided carts.
This part of China is well known for natural hot springs and a number of hotels take advantage of that capability. Several hotels have natural hot spring tubs in the rooms, or communal larger ones instead of swimming pools. To try out the hot springs, we stayed one night at the Yushe Boutique Hot Spring Hotel which included our very own small hot springs tub in the very large suite.
A bit like Hotel California
If you decide to visit Gubei, I should mention that it's a bit challenging to get in and out of. The parking lots are HUGE and the access to the town is not obvious. Even for my Chinese friends, the whole entrance/exit process is unnecessarily complicated, especially in a society that is now very much digital. The way it works is that you need to enter the town as if it's a destination in itself, so if you've booked a hotel in the town, you'll need to first register at the tourist office to check-in and obtain the entrance tickets.
To further complicate the whole process, there are various checks and balances within their processes that get pushed onto you, so ensure that you keep EVERY single piece of paper you're given and be ready to present them to various people and establishments along the way. I almost lost a CNY500 (about $100 Canadian) deposit because I lost a small receipt with a bar code on it that needed to be scanned to return the deposit.
If you're like us and booked an upper tier room, don't be upset if the check-in experience at the tourist centre is negative, because that registration desk is shared across all the hotels within the town; you'll experience the appropriate level of service once you reach your actual hotel. After you've checked in at the tourist centre, you'll be given a ticket to enter the town, but before you enter, don't forget to have your picture taken for the facial recognition system; this will ensure you can enter/exit the town without the paper ticket.
After that's completed and your face is recorded, I recommend you leave your luggage with the porter because dragging your luggage through the town will quickly become a nightmare across the cobblestone roads. From one end of the town to the other can easily consume 30 minutes so think carefully if you want to take your luggage yourself; the porter is free and they don't expect tips. Once inside the town, grab a map and start wandering around. Your luggage will magically arrive at your hotel and you can start to enjoy the town right away.
Plenty of food choices
For the most part, the restaurants in the town are pretty good, but don't be fooled (like we did), by trying to find the good restaurants by seeing how busy they are. The restaurants' front sections follow a traditional Chinese style with a few tables, sparsely laid out, but behind the front area is usually a huge modern dining environment.
We walked into a number of restaurants thinking they were tiny family run restaurants, only to find 50+ tables in a secondary room. A good reliable resource is Dianping (China's version of Yelp, OpenRice, TripAdvisor) to find good restaurants and relaxation.
The real reason to visit Gubei Watertown
Besides the beautiful town, great hotels and good food, the main reason we went to Gubei was to access Simatai and hike The Great Wall. It seemed that everyone else had the same idea that weekend and the wall was packed. Add in some high winds, tons of selfie beasts, and steep broken pavement, and you have a recipe for disaster. However, as we found out in a few days from our guide, it's apparently had a very good safety record and people somehow manage to get up and down without killing themselves.
Sunrise at The Great Wall of China
One thing we really wanted to do was to walk The Great Wall at sunrise. Much to our chagrin, it appears that they no longer allow this. Further to that, we received conflicting information of when we could go up to The Great Wall. The official documents and signs say 8:00 AM as the earliest time, but I had hiked up there at 5:30 AM two years ago.
With much persistence, we found a woman at the front desk of our hotel who informed us that we could book a guide and would be allowed up there starting at 6:30 AM. It takes about 35-45 minutes to reach the first tower so we could get some golden light, but would miss the actual sunrise. We had to pay CNY200 for the guide and we met up with him at 6:15 AM.
What unfolded as we climbed our way through the entrance path to get to the first tower was anticipation of being able to see the sun before it got too high in the sky and to hopefully get some pictures without too many people in it. What actually transpired when we arrived at the first tower was pure serenity. Absolute and complete serenity.
We had the entire Simatai to ourselves; there was not another person around, besides the two guards that live on The Great Wall. It was thrilling and peaceful at the same time. Our guide told us that it's very rare for anyone to go up at 6:30 AM and he was surprised we had booked it. I'd highly recommend waking up at 5:30 AM for this amazing, and surprisingly untapped experience.
If you're planning a visit to Beijing, if you can add on a day or two, Gubei is a great way to end or start your China trip. You can access one of the wonders of the world, eat great food, and relax in a number of hotels with hot springs and other SPA capabilities.