Even though I live in Beijing, I spend a lot of time travelling to other cities around Asia for work and for fun. A rare opportunity recently came up to be a tourist in my own city and so I booked a hotel room and tried to hit some of the spots I don't usually get to visit.
For hotel, I chose the newer Hotel Jen by Shangri-La Hotels, located in Guomao, the central business district area. The reason I chose this hotel is because it has one of the best gyms in all of Beijing called Trainyard; it's an incredible place to workout.
The goals for the weekend were pretty simple:
Visit as many restaurants recently awarded a Michelin Star (before the hoards of crowds make their reservations)
Visit the Temple of Heaven early in the morning in the hopes to capture some images without the usual thousands of people (a pretty typical situation in a city of 23 million people)
Relax and take some time to hit the hotel gym
View from the hotel
The Hotel Jen is perfectly situated to take in the amazing Rem Koolhaas and OMA designed building. The local people call this the "pants building", and the rather unfortunate oval building behind it doesn't help the nicknames. However, it is one of my favourite building designs in the world, and became iconic after billions of people saw it during the stunning visuals in the 2008 Beijing Olympics broadcasts.
Michelin Star dining on a budget
The highly anticipated inaugural Michelin Guide Beijing was recently published and I was happy to see several of my favourite restaurants making the cut including King's Joy (2-star), Da Dong (1-star), Xin Rong Ji (3-star), Mio (1-star) and Lei Garden (1-star).
With the guide having just come out, we were able to make reservations at King's Joy and Xin Rong Ji. We also managed to get reservations at Red Bowl, the excellent new hua guo (hot pot) restaurant at the Rosewood Beijing. Finally, instead of going to the usual Da Dong for Beijing Duck, we went to the more local Si Ji Men.
Red Bowl and King's Joy were excellent, Xin Rong Ji was great but not sure it deserves three stars, and Si Ji Men, as always, delivered some of the best Beijing Duck in the city, at a very affordable price. You should be forewarned however that the lineup at Si Ji Men was 50+ tables, but you can digitally line-up before you arrive so minimal waiting was required.
If you want to act like a local, use the app Dianping to search for restaurants and to make reservations and use Didi to get to and from your destination in style and comfort. You should also setup WeChat Wallet, which now works for tourists, because nobody uses cash or credit cards in China anymore.
Temple of Heaven
I've been to Tian Tan, the Temple of Heaven several times in the past, but it's always been jammed with massive crowds, so my goal this time was to go at sunrise and try to get in there before the groups arrive.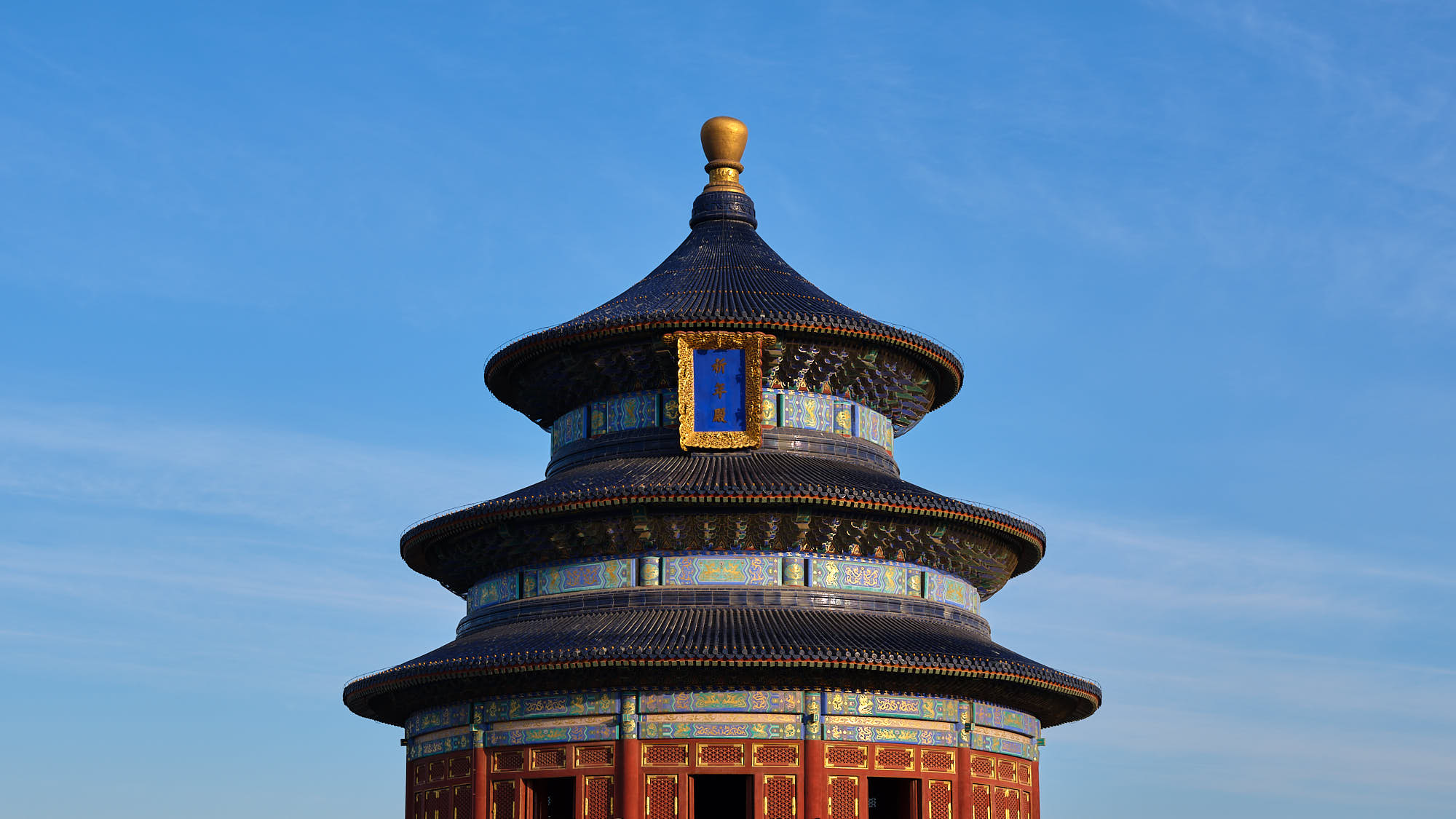 Unfortunately, it turns out that while the park opens before sunrise, the actual entrance to the temple area opens later (and requires another ticket) at 8AM. Therefore, it was impossible to get blue hour or pure sunrise pictures of this iconic building.
Therefore, the images you see here are about one hour after sunrise and right when the park opened the gates to the temple area.
A rare snowfall
Beijing is a very cold and dry place during the winter months, with snow very rare these days. Fortunately, we got a small snowfall and it stuck around for a day or two to make it feel a bit like New York at Christmas time.
A successful staycation
It's rare to spend the weekend as a tourist in your city, but I find it's always a great way to spend the weekend. Lock the work laptop away, turn the mobile phone off, and just enjoy the things that I take for granted every day.