Being trapped in a small city is no excuse to avoid a vacation, so for this holiday season's staycation, I decided to try The Murray Hotel in the Central district of Hong Kong. Last year, I had a very enjoyable staycation at the Rosewood Hotel, and was hoping to replicate that experience with a different hotel.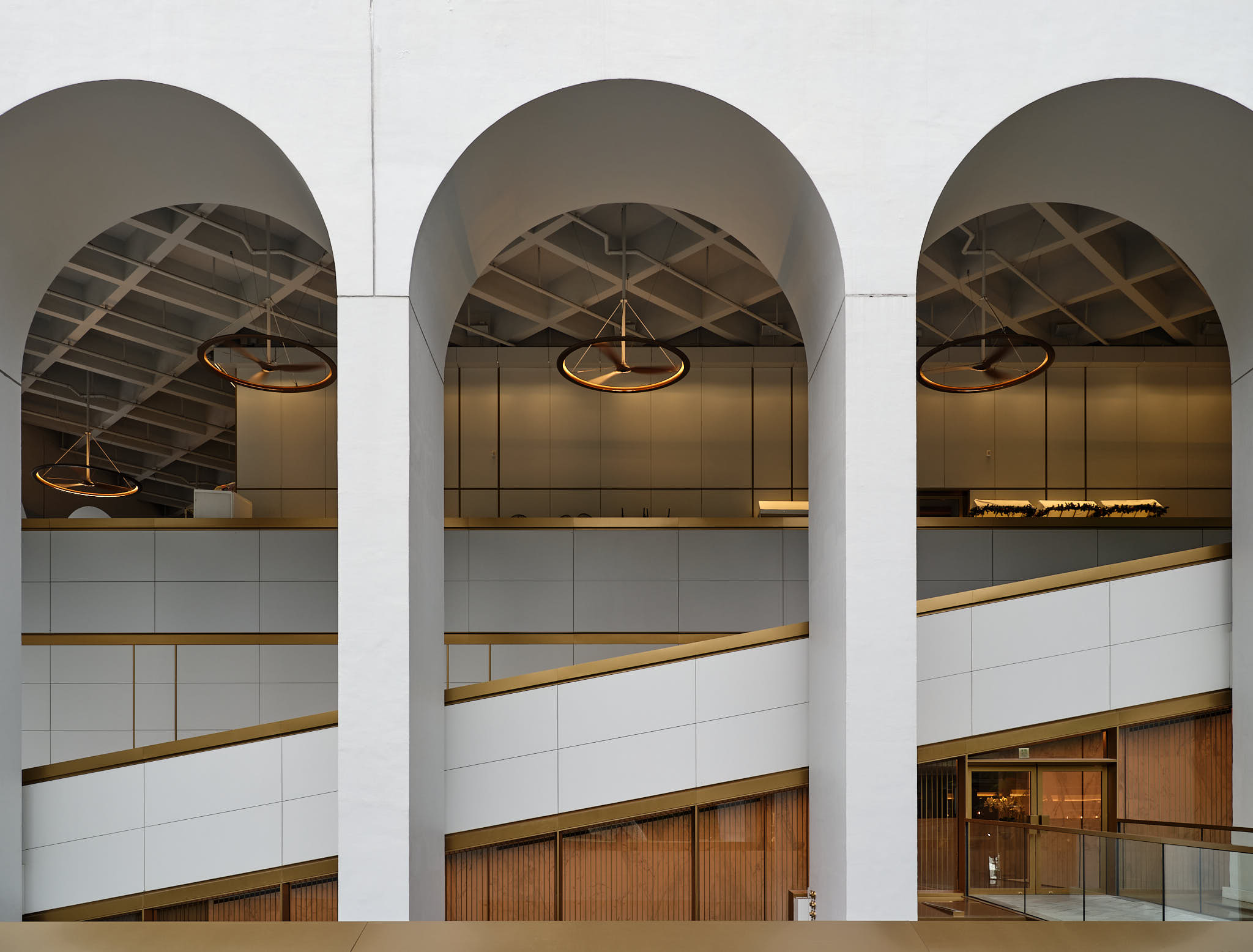 The Murray Hotel
On a recent trip to Chengdu, I stayed at the Niccolo hotel. I had an incredible experience there and would like to try their other locations around the region. The Murray is an interesting hotel because it hits all my buttons.
It's a historic building that was used for government purposes when Hong Kong was under British rule, iIt was refurbished and restored by one of my favourite architecture firms, Norman + Fosters, and it's the flagship of the Niccolo brand of hotels. It's hard to imagine a more perfect combination!
Upon arriving at The Murray, you're welcomed by the beautiful white arches that define the lower portion of the building. Looking up, you see the stunning design of the square windows, which for a symmetrical addict like myself, is pure bliss.
The original architect for The Murray Building was a visionary that saw the need for sustainability long before it became a hot topic; Ronald Phillips designed the Murray in 1969 with windows that let light in, but never allow direct sunlight to reach the rooms. In Hong Kong's hot climate, this ensures the building requires minimal air conditioning.
Sir Norman Fosters and his team at Norman + Fosters set out to restore the building to its formal glory, while adapting the business office into a luxury hotel. They maintained the original look of the building and ensured protection for old and valuable trees. Niccolo Hotels is said to have spent $1 Billion on this refurbishment, and the results clearly show the money was well spent.  
You can watch a youtube video that gives some insight into the process: The Remaking of an Iconic Landmark.
Since COVID-19 collapsed the tourism industry in Hong Kong, the hotels have had to come up with ingenious ways to survive and thrive. One strategy they've used is to entice people to create a unique experience by allowing people to bring their pets to stay with them in the hotel.
We had never taken Arya to a hotel before, and thought it would be a lot of fun to see her roaming around a hotel room, and having Afternoon High Tea with us. Oliver is a bit too young (and perhaps too big), so we went with Arya. While we had a lot of fun seeing her in that environment, I think she was a bit tense at the new surroundings!
We stayed in the Signature Suite which features 75 square meters of contemporary well designed interior space, with a huge washroom, shower, and living room area. The quality of materials and colour choices clearly demonstrate why Norman + Fosters are so successful. Everything just feels and looks right.   
We ate in all the restaurants and drank in all the bars in the hotel. We especially enjoyed lunch at The Tai Pan, and afternoon tea at Cotton Tree Terrace and The Garden Lounge. While we had dinner at Popinjays, it didn't live up to the standards set by the rest of the hotel. The view however from Popinjays is worth a drink on their beautiful outdoor patio. 
Overall, we enjoyed The Murray Hotel experience. The location is ideal, the rooms gorgeous, and the pet friendly environment added something special to the staycation experience.
Hong Kong Park
Across the street from The Murray is a hidden gem of Hong Kong, appropriately and rather generically named Hong Kong Park. Within the park there are a number of interesting places to visit. I would set aside at least two hours to enjoy walking around and taking pictures.
There's quite a bit of elevation so you can climb the stairs to get views of the city, or better yet, find the aptly named Vantage Point. This cool spiral structure has steps that let you climb a further 30 meters to capture a full 360 degree view of that area. 
Edward Youde Aviary
Within Hong Kong park is another hidden gem, the Edward Youde Aviary. It's an indoor and outdoor bird sanctuary. While the indoor caged section has some very interesting birds, the outdoor open-air section is where it gets really fun. The birds are not afraid of humans and will interact in so many cute ways.
Conclusion
As we close out another year under COVID-19 restrictions and setbacks, it was nice to "get away" by taking a staycation in a dynamic and exciting city like Hong Kong. I wish you and your loved ones a happy, healthy and prosperous new year! I hope that travel opens up again and that we can once again share our common love for experiencing new cultures, sites, and foods.