This post will be short as I've covered most of the relevant content in the previous visit to Chengdu, however I wanted to share some new pictures from this trip. In addition, I went to the countryside on this trip and visited Ching Cheng Mountain with it spectacular waterfalls, and the Giant Panda Training Centre.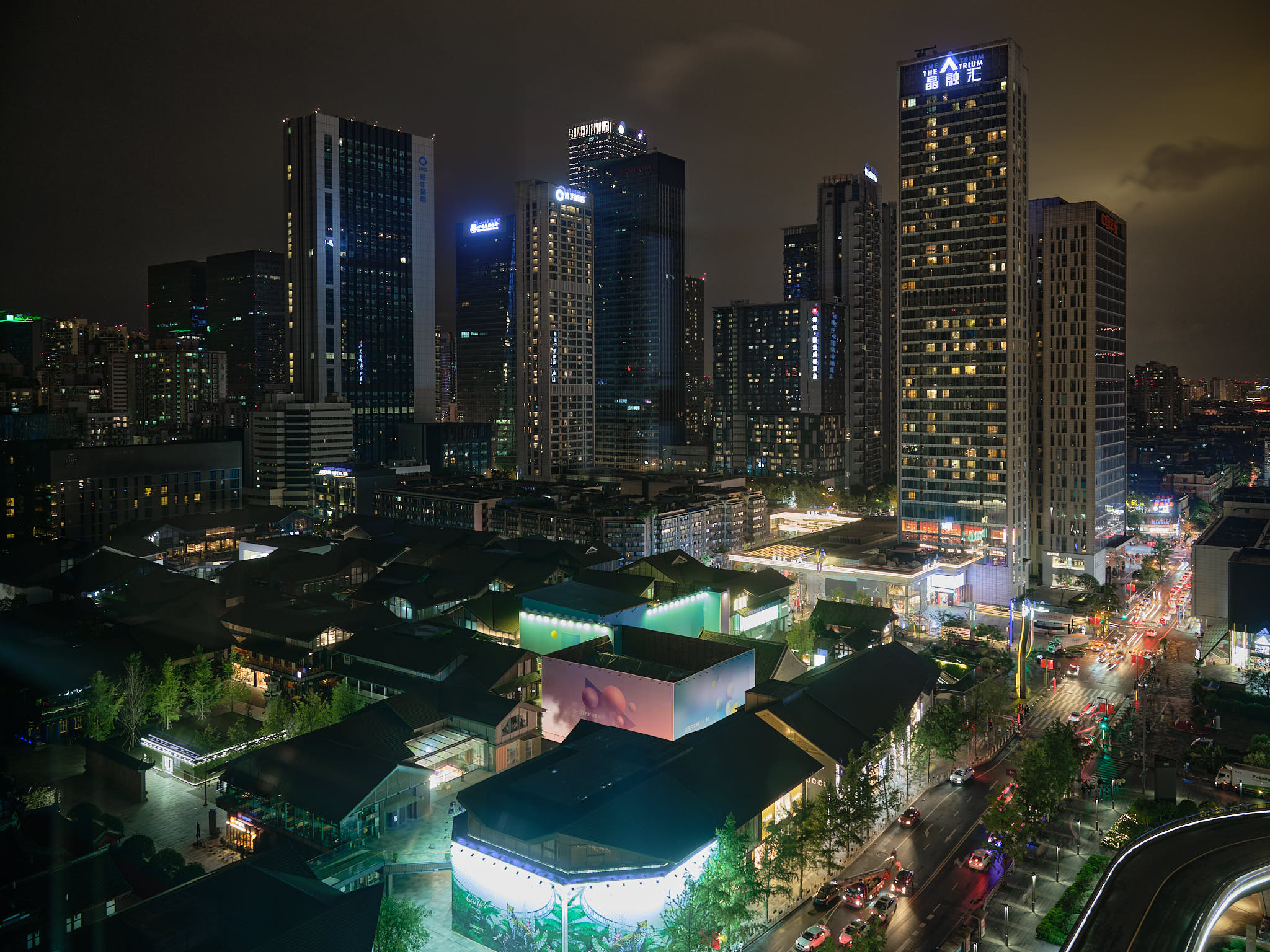 In this series from Chengdu:
Chengdu City
For this visit to Chengdu city, I booked the Niccolo Hotel, which turned out to be a great choice. It's a hotel that combines the luxury of a five star hotel, but with the personal touch of a small boutique hotel. The service was top-notch and the food in all the restaurants was on point. In fact, I would be surprised if Yue Hin, their Cantonese restaurant, doesn't get a Michelin Star in the next year or two. It was that good.
Since this trip was during China's national week-long holiday, it was expected that there would be a lot of people in the city, and this week was no exception. Being so close to the Taiguli shopping area and the IFS business and shopping complex, we expected even more people and that's exactly what we got. In China, there's a saying that it's all "People Mountain and People Sea" during national holidays.
With so many people on the main tourist sites, I focused this trip on food and relaxation, with four nights in Chengdu city and three nights in Dujiangyan in Northwest Chengdu. You'll therefore see a lot more food pictures on this post than usual, and barely any tripod style landscape images.
Taiguli Area (Chunxi Road)
I started the trip by visiting Taolin, a famous local chain restaurant. The lineup was insane with about 200 people ahead of me, so I decided to go further outside the city centre to find another location. This strategy worked as there were only about 10 people ahead of me this time. When inside, I ordered the usual spicy fried chicken (la zi ji) and a spicy fish (la you).
After Taolin, I headed to a local coffee bar where they make some cool coffee and alcohol concoctions. Their venue is beautiful and unique, and the drinks are really unique. I'm not sure I love the taste of all the drinks, but they are memorable and the decor certainly works very well.
Back to the Taiguli and Chunxi Road area, there's a really cool "3D" advertising display, which is actually not 3D, but a clever optical illusion with a bent screen. The Pandas look like their sitting inside the space and at times appear to come over the edge to look down on the crowd. And what a crowd it was! Thousands of people stayed there to watch or photograph this cool phenomena.
Any visit to Chengdu would not be complete without seeing Pandas, but there are two Pandas you must see; the real ones and the one on top of IFS. The one on top of IFS has become almost as popular as visiting the real ones. In some ways, I feel sad for the fake Panda; he looks so sad with all those people harassing him all day long, wanting to get pictures with him.
The Chunxi Road area is where Taiguli is located and it's one of the most tourist friendly locations in China, where most staff at the shops will speak English. It's also a great place to go shopping for all the major brands. I especially love the design of the stores in the temple area where they maintained the traditional Chinese architecture inside and outside. Even the big luxury brands embraced the traditional style.
When visiting IFS, you must go to the rooftop and take a picture with the escaping (or climbing) Panda. During the Chinese holidays, this area will be packed with a several hours long lineup, but on a regular day, you can walk up and take a picture without any delay. There's also a number of restaurants on the roof top and a great place to just hang out and enjoy Chengdu's climate.
Wide and Narrow Alley (Kuanzhai Xiangzi)
A wildly famous area to visit in Chengdu is the wide and narrow alley area, or Kuanzhai Xiangzi in Chinese. It's filled with small shops selling local wares, with lots of spicy sauces and local Chengdu specialities. There's also a number of big brand third wave coffee shops like Arabica% and HeyTea. The Arabica% is especially a nicely designed coffee shop with a very cool central open area. The waiting time however can be quite long during the busy periods.
Chengdu Wuhou Shrine
The Wuhuo Shrine is a pleasant place to walk around with interesting statues of historic figures around the outer perimeter of the building. It was unfortunately raining heavily while I was there, and everyone was crammed into the covered areas so I didn't get many opportunity to take pictures.
Wenshu Monastery
Besides the beautiful environment, this is a nice place to enjoy the Chengdu tradition of having tea in the park. Just find an empty table (difficult during the national holiday, but not impossible), walk up to the staff, pay a small amount of money (via WeChat or Alipay) and then take the pot and your cups back to your seat. If you need to go to the washroom, just leave the small plate on your seat so others know that this table is taken. Enjoy the fresh tea, but watch out for the killer tiger mosquitos!
Amazing Chengdu Food
One of the biggest draws of travelling to Chengdu, besides seeing the pandas up close and personal, is the uniquely spicy Chengdu food. It's pretty rare to find someone in China that doesn't love Chengdu food, and once you've visited, you'll quickly realize why it's a foodie heaven. The must try foods include the Chengdu numbing spice hotpot, spicy numbing chicken, and the spicy fish. In addition, there are many different types of noodles from the very common Sichuan style spicy noodles (dan dan mian), to the less common, but very interesting, sweet water noodles (tian shui mian).
While it's great to have proper sit-down meals on your travels, I highly recommend sampling the street food in Chengdu. It's one of the city's strong points and you'll find food vendors on every corner. Some corners will even have full on seating setup. For street food, try any of the above, and also add in the spicy potatoes, some local beer, barbecue chuan'er and of course sticks of meat and vegetables that can be dipped in both cold and hot spicy oil.
In summary, don't be afraid of street food, but instead embrace it and make it your goal to eat on the street as much as possible. I suggest checking out the Jinli Snack Street or the Jianshe Alley area if you prefer a younger crowd.
I hope you've enjoyed this short visit to Chengdu City. Next up, we'll visit Qingcheng Mountain to see what Chengdu's countryside has to offer.