The blue city
After Udaipur, we headed west towards Pakistan to Jodhpur, the "blue city" and the "sun city". It was HOT as heck but beautiful. Initially, we were a bit a disappointed because the city didn't appear to be all that blue, but it turned out that we were not in the right area and needed to go into the old city.
In the old city, we found a lot of beautiful blue. The narrow winding alleyways took us by people's homes, small chai shops, beautiful artworks shops and everything in between. We often saw children playing in the streets, cows making their place in Indian society known around every street corner, and stunningly beautiful palaces in the background.
Perhaps the city can be a bit rough in parts and you need to be aware, but there are many parts where you can relax and enjoy the scenery. There was one particular area in which we found ourselves rather concerned, with very angry territorial dogs who very clearly told us, in no uncertain terms, that we were in their space and they wanted us out.
The view from the Mehrangarh Fort lets you see how blue the city actually is. At street level, it can appear as though the city isn't all that blue, but from above, it becomes apparent where this city got its name from.


Throughout India, we found gorgeous children asking to have their pictures taken, and being into photography, this was an ideal situation. Up until this trip, I had rarely had the courage to ask someone if I could take their photo, but after India, I feel far more comfortable walking up to strangers and asking.
The children below initially wanted money from us, and they were clearly targeting foreigners coming out of the tourist attraction of the Mehrangarh Fort, however once we engaged them in conversation, they became super friendly and stopped asking for money. They became more curious of where we were from and what we thought of Jodhpur.
Easily one of the most magical evenings of my life was spent at this restaurant INSIDE the Mehrangarh Fort. That's right, you can have dinner inside the fort after it closes and have a front-row seat to seeing the sun set with the fort as the foreground. To our amazement, the entire restaurant was empty and we were the only table there. When we were leaving, we did see a large (and very posh) Indian family arrive for a late dinner. This dinner had to be one of the highlights of our trip and a must do if you visit Jodhpur.
Another tourist destination, but one where we didn't see any tourists is the water step-well in Toorji. When we first arrived, the children seemed to be eyeing our cameras and we felt a bit uncomfortable, but again, once we engaged in conversation, everything changed for the better and the children became super friendly. There is a small cafe next to the step-well that has fantastic straight-across views where you can take in the children making crazy dives into the water below.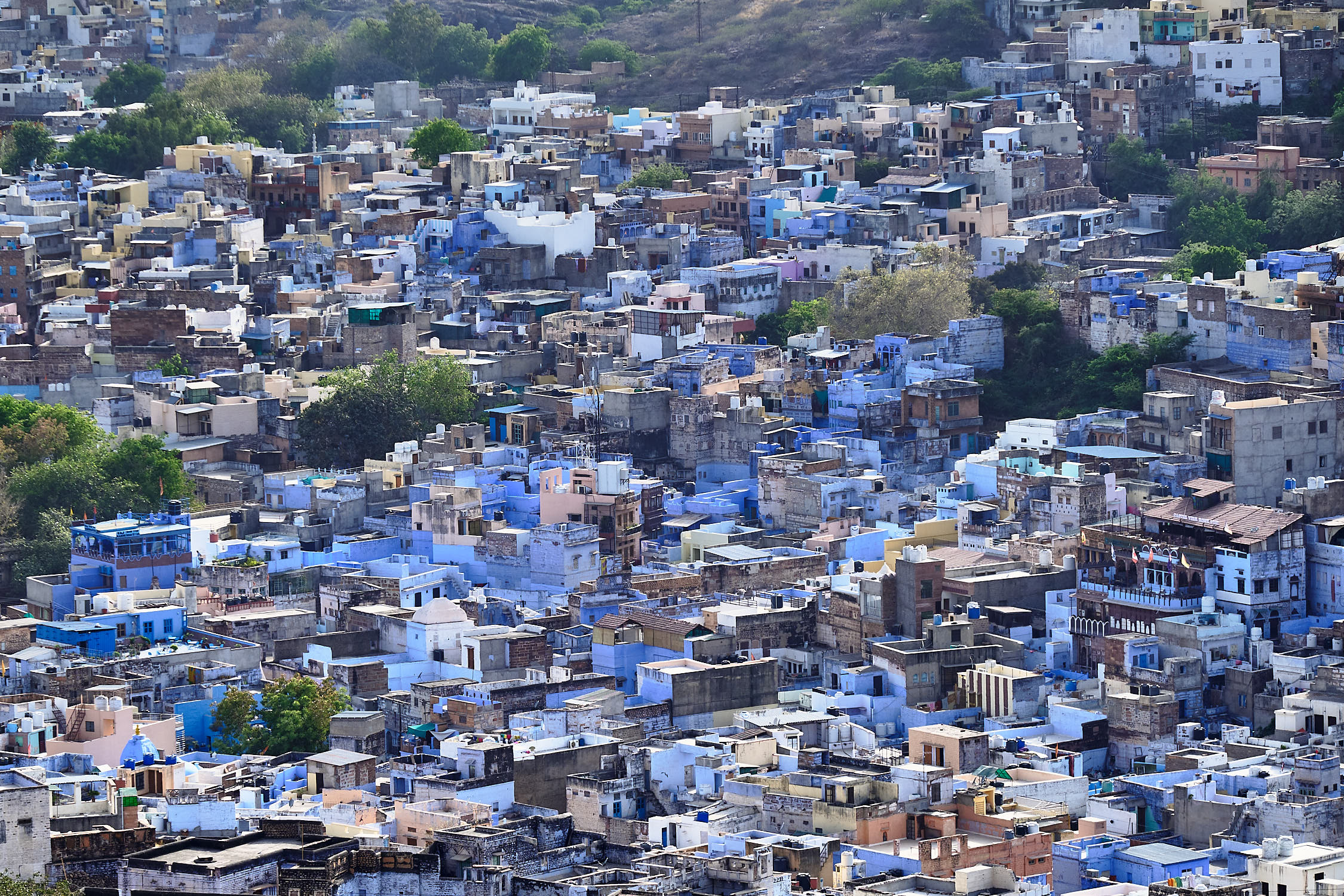 The Sadar Market is one of the big attractions in Jodhpur and it didn't disappoint. The variety of products for sale was astounding. You can literally get anything and everything there. There are however two things you should keep in mind, there are touts looking for vulnerable tourists, and there are parts of the market where poverty may make you feel uncomfortable, especially if you come from a society of great privilege.
Our hotel was extremely cool; it's attached to the Ajit Bhawan Palace and has these "luxury tents", and that's an apt name for them because the rooms were very well appointed and the hotel a rather beautiful place to stay. It turns out that the owner of this palace is related to the owner of the incredible Umaid Bhawan palace that we would have dinner at on our final night in India.
On our final night in India, we decided to live like a Raja and booked a table at the restaurant in the Umaid Bhawan Palace. This palace is made up of 360 rooms (yes, three hundred and sixty rooms!), however the grandson of the Raja that built the palace has converted 60 rooms into a hotel to earn some cash flow from this magnificent property. The Taj Hotels group runs the hotel and my gosh is it a stunner!
I've decided to only post two images from this incredible place because I don't think I was able to really capture how beautiful and amazing it is. Every aspect of this hotel and the restaurant were impeccable. The service, the food, the ambience, the friendliness of the staff, and the waiter that guided us through the meal, it was all the best we've experienced anywhere in the world. I'd highly recommend this hotel and restaurant.
This concludes our first trip to India. You'll note that I used the word "first" because we're clearly smitten by this "Incredible India" trip and we're already planning many more visits. When you consider how little of the country we covered, there are many, many more trips to India in our future, and hopefully yours too.