For the third instalment on the Lijiang series, we head to Heilongtan and Mufu Palace. Heilongtan is a park located within walking distance of the Dayan Ancient Town. Mufu Palace is actually right inside Dayan, but requires a separate ticket to enter.
For other posts in this series, please visit the links below:
Heilongtan (Black Dragon Pool)
We'll start with Heilongtan, or Black Dragon Pool, since it's so close to Dayan and somewhere that you'll want to either start or end your day at. The best time to go is during sunrise or sunset and it's absolutely a joy to find this treasure so easily accessible from the town. You can take a taxi or walk depending on which side of Dayan that you're staying in. I was at the very south tip so it was a good 30 minutes walk there; however if you're on the north side, you can get there in less than five minutes.
It's one of the easiest parks to enter in China with no entry fees or gates. All I had to do was register my name and passport number with a desk placed out front for tracking purposes during the pandemic. Usually, really scenic spots are hidden deep within parks requiring hours of hiking or long walks. Much to my surprise, five minutes after entering and walking counter-clockwise, this glorious scene appeared in front of me!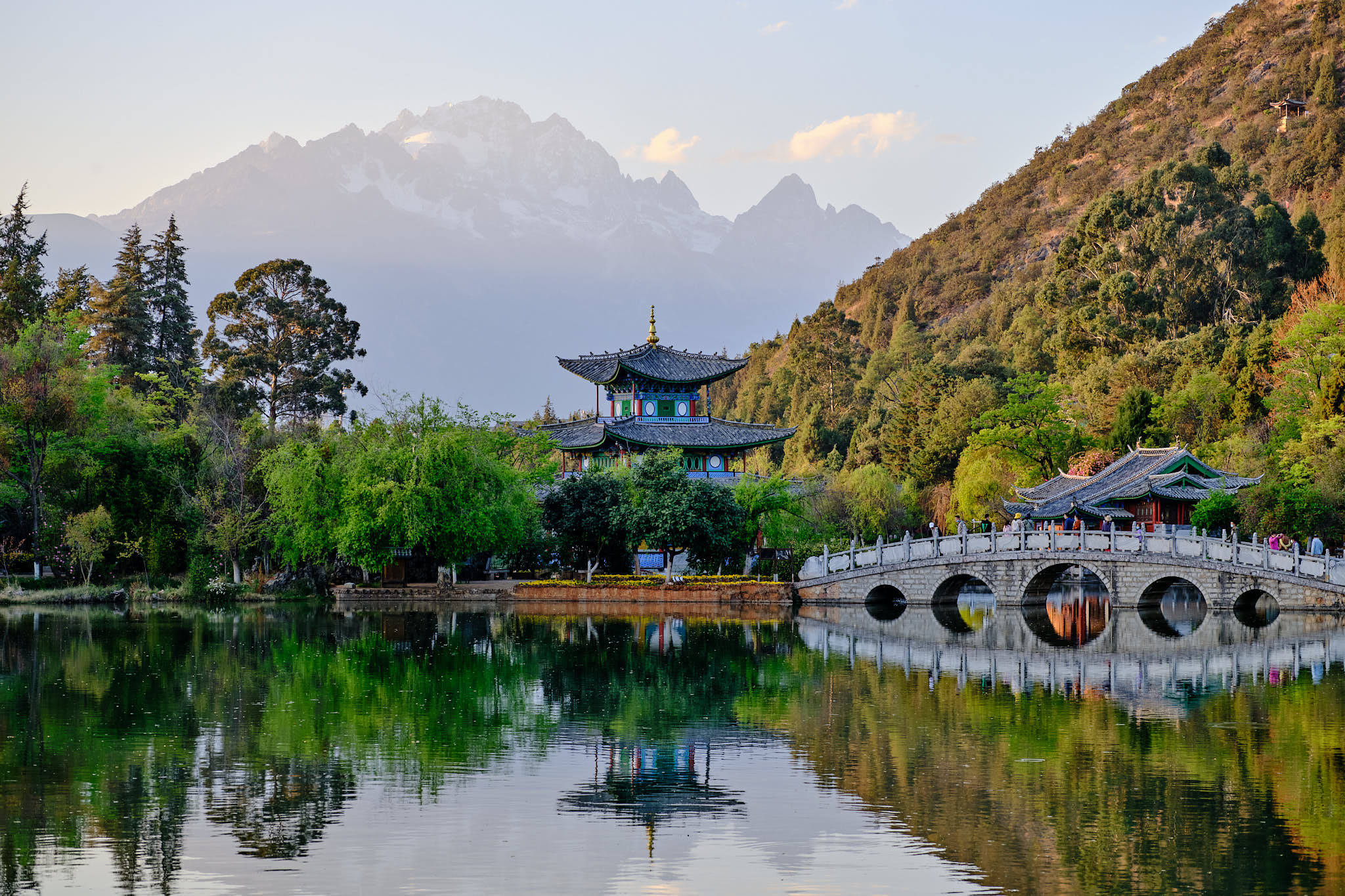 I continued to walk around the park to take different angles of this beautiful view. All in, I spent around 1.5 hours in the park and walked pretty quickly. I think you can budget two hours in the park and have a nice enjoyable stroll to start or end your day. I was there during sunset and the lighting was gorgeous. 
Surprisingly, there were very few people there and I could have placed a tripod pretty much anywhere I liked. With the GFX 100S however, a tripod is not really needed during blue hour so I hand-held the shots which turned out tack sharp. For the best lighting, I'd recommend going there at sunrise, however I never did quite get up early enough to make it there in time! 
Next, we'll go back to the Dayan Ancient Town to visit Mufu Palace.
Mufu Palace
I had heard from people that there's a palace inside Dayan that resembles the Palace Museum in Beijing, but on a smaller, but still grand, scale. I asked a few hotel people what it could be and nobody made the connection, however a friend finally figured it out that I was talking about the Mufu Palace.
Mufu Palace was home to the Mu clan who controlled this part of China under the Ming and Qing dynasty periods. The original palace was destroyed in an earthquake and was rebuilt to the same design as the original. The palace sits in the southwest section of the Dayan Ancient Town and can only be accessed from inside the town. There are a number of gates, but does require some uphill walking as the palace is perched into the hillside.
The cost to enter was ¥50 and well worth it. I'd recommend setting aside a few hours to really enjoy the grounds. There are a number of pagodas that you can enter and some that go up to higher floors where you can take in some nice views. The best spot however was one that I almost missed because of its strange entrance through a jewellery store, the Emerald Garden. Once through the jewellery shop, follow the signs and start climbing the steps to the top of the Emerald Garden. 
Once at the top, you'll be rewarded with this stunning view of the Mufu Palace and Dayan itself.
The last stop on our Lijiang trip was a last-minute addition on the recommendation of a friend. He recommended to visit a "real" ancient town that hasn't yet hit the commercialization stage. There are a number of these towns around Lijiang and the one I chose was Baishi Ancient Town. Please stay tuned for that post.