It's hard to believe that we're still in a semi-lockdown phase here in Asia with essentially no travel allowed for fun purposes. Even travel for critical purposes is severely limited and there are many unfortunate stories about families torn apart and unable to see each other for nearly half a year.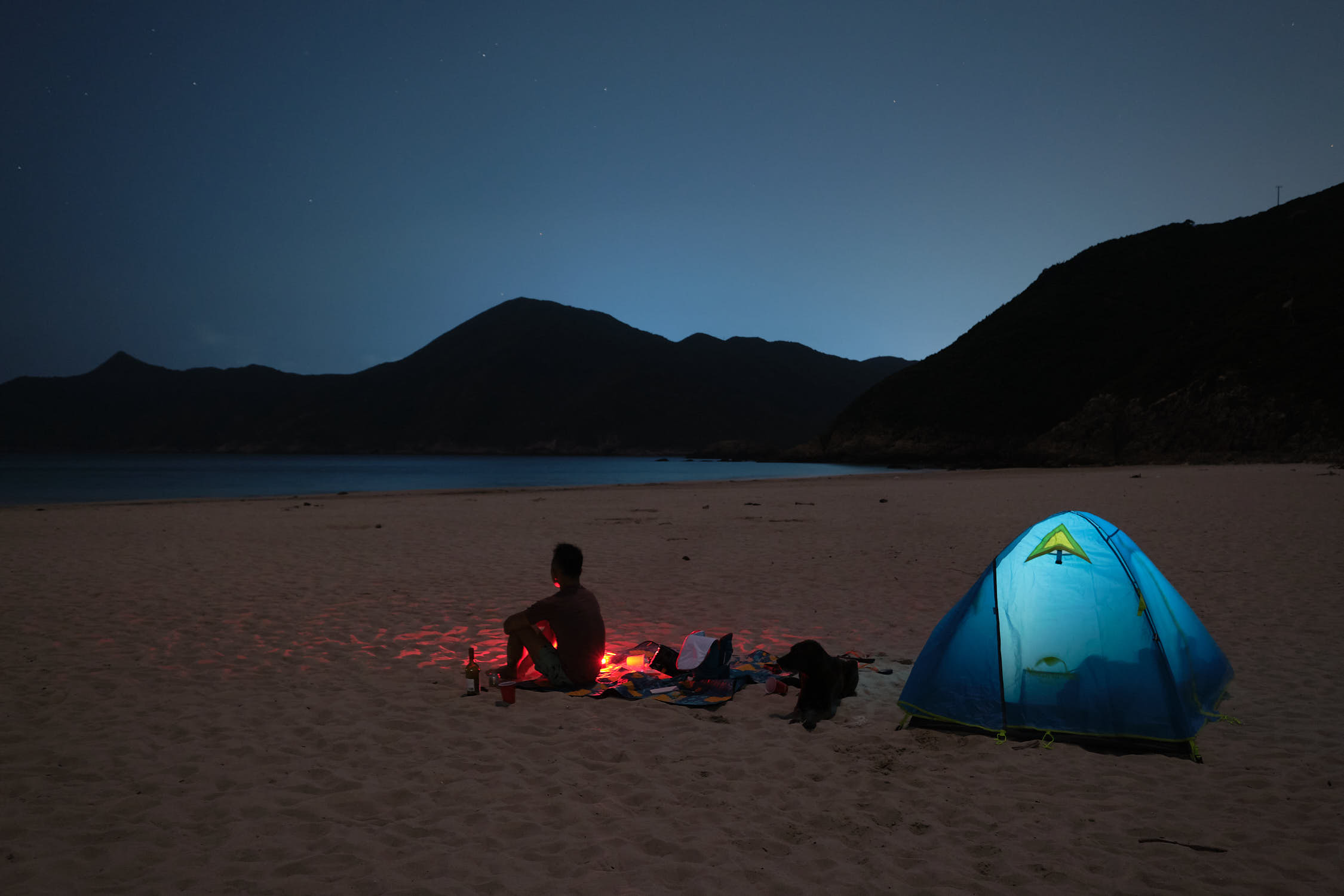 White sand beaches
Putting aside the human tragedy, the travel restrictions have forced me to invest more time in appreciating all that Hong Kong has to offer, and wow, does this city have a lot to offer! As you'll see in this post, there are some stunningly beautiful areas of Hong Kong that look nothing like the skyscraper images that you always see.
There are white sand beaches in Hong Kong, that if you close your eyes for thirty seconds, you'll re-open them to a scene that looks, feels, sounds and smells just like the wonderful beaches of Thailand, with the only major difference being that you'll hear Cantonese spoken instead of Mandarin and Thai.
Pictures don't do this beach justice, so I thought I'd share a short video I took using the Mavic Mini drone of Arya playing on the beach. The mountain you see is Sharp Peak. You can view the YouTube video below.
One of the best beaches in Hong Kong has to be Ham Tin Wan. I showed a few images from this beach in a previous post where we hiked to Sharp Peak. A few months back in May, we decided to try and camp out on this beach. We took a holiday day at work on Monday and came to the beach on Sunday. While it was pretty busy when we arrived, things would change dramatically over a few hours.
Getting there
To access Ham Tin Wan, you take a taxi to Sai Kung Pier and buy boat tickets from the vendors at the pier. The taxi ride from the island is about one hour. At the pier, if you find a vendor you like, get their WhatsApp information so that you can use them again in the future and also on the return boat ride. Please note that the boat services are not regular and so you need to confirm what times they will go and return from Ham Tin Wan.
The boat ride from Sai Kung Pier to Ham Tin Wan is about 30 minutes. It should be noted that depending on the water level, the boat may need to deposit you in the water, so be prepared to go at least knee high into the water getting off the boat. I should also mention that the boat ride can be pretty choppy, with very aggressive bumps along the way. The captains are pros and know exactly how much they can push things, but while it's all happening, it sure feels like the whole boat is going to explode into a thousand pieces of old wood.
At the beach
Upon arrival at the beach, you'll be treated to a beautiful view of Sharp Peak in the background and a small village at the base. The village has a few restaurants that serve great local food, and most importantly, they stock tons of ice cold beers. These small restaurants will also be where you can rent tents, umbrellas, and even pay for a shower (although I heard the shower facility is nothing worth paying for).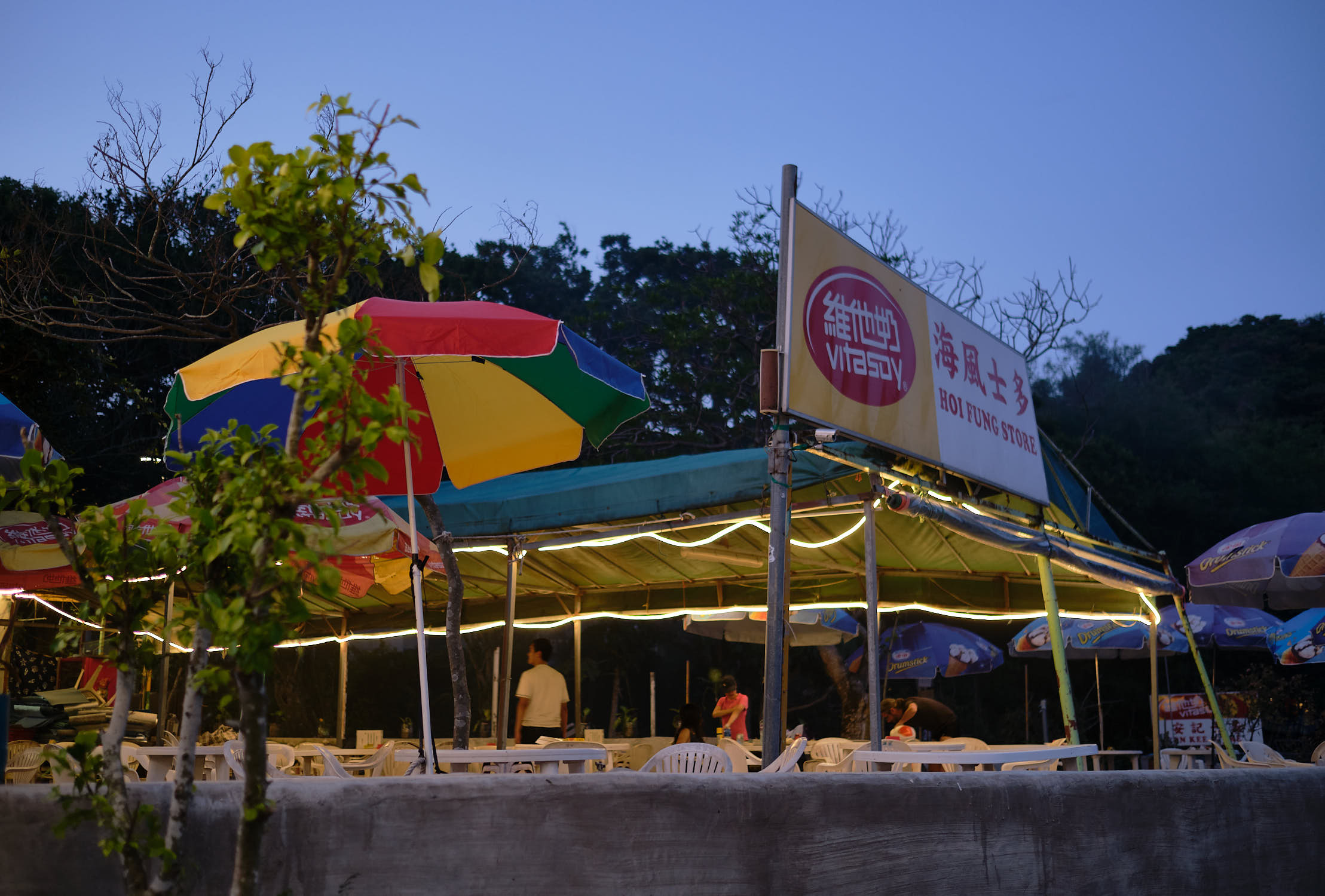 At the beach itself, there are no water sports or anything like that (which I really appreciate) so you can enjoy a quiet and peaceful time enjoying your company, the dogs, and the beautiful scenery. As mentioned before, there were quite a few people when we first arrived on Sunday, but by sunset time, the entire beach emptied out, and we found ourselves amongst three tents on this massive beach.
Interesting visitors
Just prior to sunset, a few cows came to the beach, fascinated the departing beachgoers, and provided ample photography opportunities for city folk like myself. Interestingly, when we woke up in the morning to watch the sunrise, the cows were still there, but just standing around a different location! They didn't bother us at all over night, and we clearly didn't bother them.
The best part of the camping adventure was waking up the next day to a glorious sunrise and a completely empty beach. We went out for swims, took the drone out for some videos, let the dog run around, and just had an awesome time. I kept thinking that I could not believe this is only 1.5hrs away from Hong Kong, and yet I had never been here before.
Conclusion
Since the camping trip, I've gone back to Ham Tin Wan three times. The most recent time, I took our new puppy, Oliver, a rescue dog born in Hong Kong and found on a construction site, to the beach for his first swimming experience. I've included a picture of the little guy since I know many of you come here for pics of Arya, and hopefully now, Oliver as well.
Having gone there a few times and trying different approaches, the ideal situation for me is to arrive in Ham Tin Wan at 10AM, setup a tent, some umbrellas, and grab some beer (all available from the local shops so you don't need to carry anything); hang out at the beach, go for a swim, eat some food, and return back to Hong Kong after sunset at 7PM.
I hope that this post encourages you to set aside a day to visit Ham Tin Wan on your next trip to Hong Kong, or better yet, if you live in Hong Kong, to set aside a day or two and try to camp overnight at this beautiful spot.