Hope all my readers are keeping safe and healthy during these unusual times. I wish you a Happy New Year! May we all start travelling and exploring the world again soon!
With the pandemic still in place, the only option for those that aren't in lockdown is the ability to travel domestically. If you're in a large country, this is a great opportunity to explore the neighbourhood. Being in China, a huge country by both population and land mass, this affords many opportunities to see the less well-known parts of this amazingly diverse country.
Warmth in the winter
Winter has set in aggressively in Beijing, so I was looking for a weekend trip to somewhere warm. Given China's climate, there are only a few places that still have warm weather in the winter time, in the southwestern area and the very southern regions. Even then, one has to be careful because the mountainous regions down south can be very cold. Keen readers of this blog will remember the painfully cold experience we had in November in the southern city of Guilin a few years back.
I looked at going to Dali or Lijiang, which are common destinations in the Yunnan province of China. The temperature, while better than Beijing, was still pretty cold at night, so I decided to go with a friend's recommendation to visit Xishaungbanna, near the border with Myanmar and Laos, and very near Thailand as well. The influence of all these nearby countries can be seen and felt throughout Banna, as the locals call it.
First impressions
My first impressions when arriving at the airport were positive. The airport is modern and clean and has that Southeast Asia feel to it, with pagodas punctuating the architecture. Since this was a domestic flight, and with only carryon baggage, I was out of the airport super fast and into the welcoming hands of the airport car pickup service. The hotel I chose for this trip was a western one (was hoping for some English speaking staff), but if I were to do it again, I'd go for a luxury Chinese brand as they seem to have the upper hand in this city.
Jinghong City
There are several areas you can call home in Banna. You may want to split your time with two nights in the city and two nights in the countryside to get the best of what Banna has to offer. I chose city this time since it's my first visit, but I'll definitely do a country stay next time because the scenery is just stunning all around this area.
If you decide to have a city experience, I recommend finding a place within a few km of the city because traffic can be surprisingly bad across the Mekong River. I saw that the city is addressing this with the construction of a new bridge on the east side so this may be better when you visit in the future. It seemed like every trip into the city (8km) took between 20 and 40 minutes depending on the time of the day.
Gaoshuangxi Shuangjing Market
By far, my favourite experience in Banna was to visit the night market. I've been to a lot of markets in Southeast Asia, but I think this has to be the largest I've experienced. The atmosphere is incredible and energizing. While the pictures turned out ok, the reality is much better and I was not able to truly capture the essence of being there with all that activity going on around you.
Amazing food
I find that what ultimately makes or breaks a trip is the combination of people, scenery and food. I've talked about the beautiful scenery around Banna and I'll soon share my experiences with the locals, but what really stands out is the mind-blowing variety of food available in Banna. Because of the influence of the countries bordering the city, you can choose from Chinese, Myanmar (Burmese), Thai, and Laotian food. It's not transplanted food either, it's real-deal authentic food made by the ethnic minorities.
The price of food is also another huge selling point of visiting Banna. Where pineapple rice might cost 68 RMB in Beijing, it costs only 28 RMB in Banna. Everything with the exception of tea and coffee were about half the price of what I usually pay in Beijing. Throughout the weekend, I didn't have a single bad meal. Every item was made fresh, including in the night market.
If you do visit the night market, there is overwhelming choice of food available. I went super safe and stuck to vegetable products including some crazy spiced tofu and also the most amazing potato slices I've ever had. If you order the potato slices, make sure that you tell them you want it spicy "wō yào là de". If you don't, since you're a foreigner, they'll just give you the potato slices with ketchup, which is a totally different experience.
Beautiful nature
Yunnan is all about nature, food, different cultures, and the people. The nature surrounding Jinghong is some of the most beautiful on earth with tea plantations making the world famous Pu'er tea and layers of mountains that the morning mist rolls through every day. Within the city itself, there are a number of great spots that you can spend a day roaming around; Manting Park is right in the city, and the highly regarded Botanical Garden is about a one hour drive.
For this trip, I focused on staying near Jinghong, so I visited Manting Park. It's very easy to find and easy to walk around. I spent about five hours roaming around taking pictures and hanging out until sunset came around. It's really magical around sunset so I would recommend timing your visit to coincide with the relatively early sunsets at this time of the year. I'd also recommend ensuring that you get a map or use your phone because there are a number of hidden areas in the park that should not be missed.
Language barrier/non-barrier
With Banna being so similar in some ways to Thailand, I think for most people, they would rather go to the real thing than trying to find Thailand within China. As a result, the local tourism industry is geared towards domestic travellers, mostly coming from the cold northern cities like Beijing and Harbin. Even western hotels have a hard time managing English speaking clients, and it gets exponentially harder when you venture out into the city. Because of the various ethnic groups living in Banna, the signs are targeted to them and already have 2-3 languages on each sign, none of which are English. Most signs have Chinese, Burmese and some Thai.
I highly recommend learning some basic Mandarin before visiting Banna, or at least ensure that you have a good translation app like Baidu Fanyu. However, even if you find yourself stuck somewhere without being able to speak any Chinese, I am confident that the local people will find a way to help you. They are genuinely kind and warm-hearted people and they won't let you go hungry or without a way to get back home.
Not another Thailand
Coming to Banna to find another Thailand is I think a mistake and may leave you disappointed. Thailand is the Land of Smiles and their tourism industry has been built up over decades of hard work and evolution. Banna is not there yet, and perhaps it never should get there, because what it offers is something totally different to Thailand.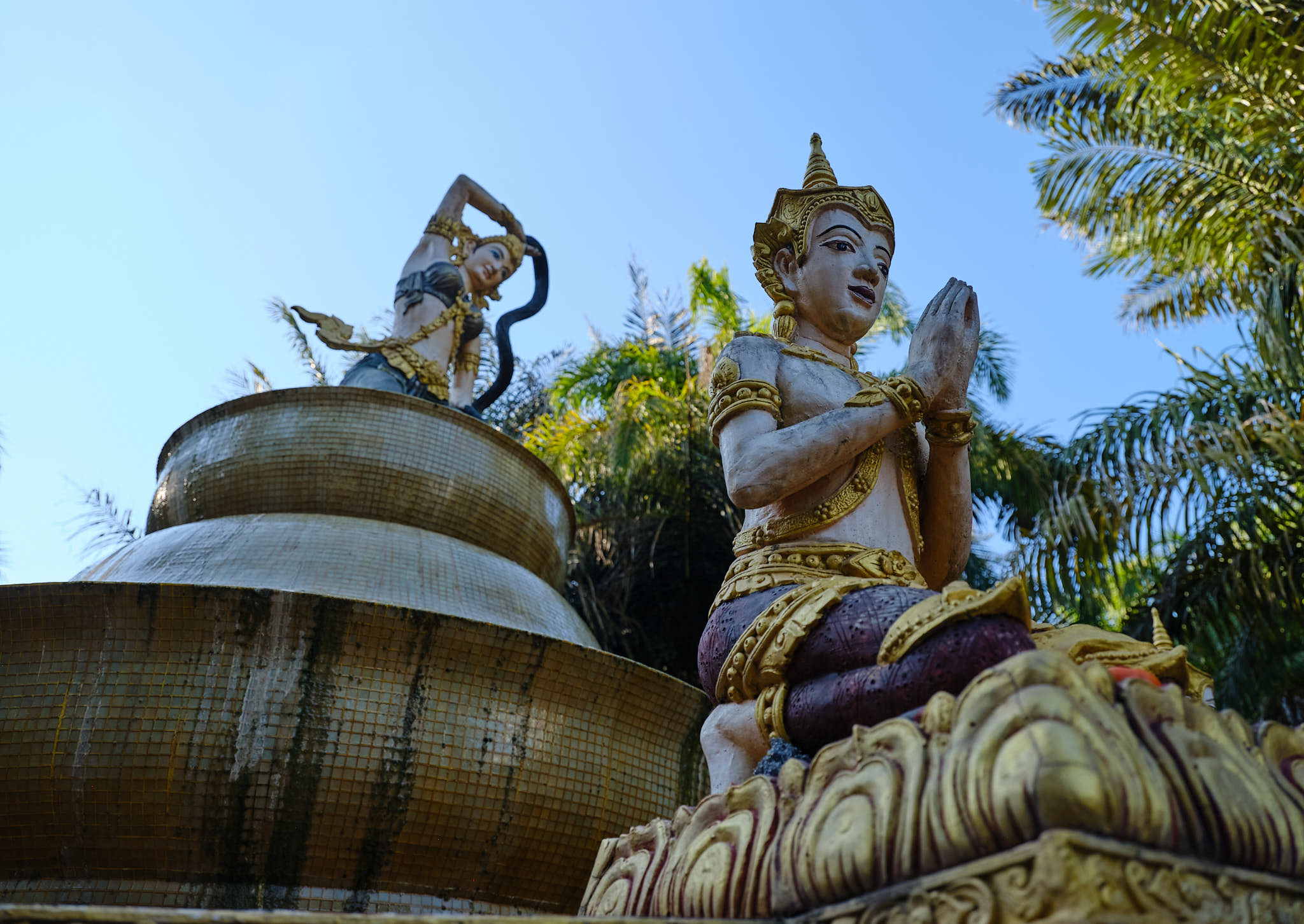 You get a unique cross-section of cultures, food, languages, and scenery, all within a few hours drive from each other. If you decide to visit Banna, I recommend coming with an open mindset and to focus on this being Banna and not Thailand, Laos, or Myanmar. You also get a more raw and authentic experience than you do in Thailand. There are many parts of Banna that are highly underdeveloped, although it looks like that's changing fast.
Summary
Xishuangbanna was a big surprise and exceeded my expectations. I will definitely go back again soon and I hope that all the development I witnessed helps the local community, while not changing the unique experiences that this city provides. If you decide to visit Banna, let me know how it went; I'd love to hear about your adventures there.
Recommended itinerary
There's a lot to see in Yunnan, so you can spend months roaming around this beautiful part of China. For Xishuangbanna specifically, I think a good short duration trip would include four nights, with two nights near the city in Jinghong, ideally somewhere within walking distance or a short drive of the night market. You can then spend another two nights in the stunningly beautiful countryside. If you have more time, you can do daily excursions to the Pu'er tea area and other similar destinations.
I hope you've enjoyed this short trip to Xishuangbanna. If you hadn't heard of this city before, I hope you'll consider visiting it in the future; it's a real gem within a country full of amazing places to visit.