Right before COVID-19 took hold and turned our lives upside down here in Asia, we managed to get away for a long weekend at my favourite relaxation destination of Koh Samui. Keen readers of this site will have a mild case of déjà vu because it was only 2018 when we last visited this wonderful island in Thailand. If you want to read more about the island, please have a look at that post.
I'd like to wish you and your loved ones good health, safety, and a quick return to normal life.
Before I dive into this weekend trip, I'd like to wish you and your loved ones good health, safety, and a quick return to normal life. We're hopefully past the peak of COVID-19 here in East Asia and we're looking forward to travelling again in the near future when countries once again open their borders to foreigners and tourists. I hope this post will inspire you to start planning your next trip when life returns to normal, and based on our experience here in East Asia, life will indeed return to normal for everyone in the near future.
With this being a short weekend trip, the focus of this post will be primarily on the resort that we stayed at. The goal was to get some rest and relaxation, and to enjoy what was likely going to be the last trip for the foreseeable future. While we were in Thailand, borders started to get locked down and our anxiety levels skyrocketed, but the beautiful resort we stayed at and the incredible staff helped ease our concerns.
Borders started to get locked down and our anxiety levels skyrocketed.
For the reasons noted above, we decided to splurge and chose the Sala Samui Chaweng Beach on the east side of the island, a little less than a 15 minute drive from the airport. In the previous trip, we stayed at the equally great (but different) New Star Beach Resort. As things started to unfold with COVID-19, our choice for the resort turned into a decision that we would looked back on with more and more appreciation.
We had originally booked the Oceanfront Balcony Pool Suite, but when we were checking in, we asked the manager if there are any upgrade suites available for added cost. The manager smiled and said we were in luck. They had one unit remaining of the Oceanfront One Bedroom Pool Suite, which was essentially double in size of the Balcony Pool Suite. Given we may be trapped inside for most of the time, we decided to upgrade and ended up extremely happy with the decision!
The suite was gorgeous and huge, with a panoramic ocean view. There were two bathrooms, a nice sized dinner table from which we could work-from-home over the weekend as we responded to the crisis on the weekend, a huge living room area, and king sized bed to rest after the long and uncertain days. The style of the hotel is quite different than most Thailand hotels we've stayed at the in the past; more Morocco than Thailand, but it worked just fine for us.
We'd highly recommend the Sala Samui for your next trip, and if you can swing it, definitely consider splurging for the upgraded room.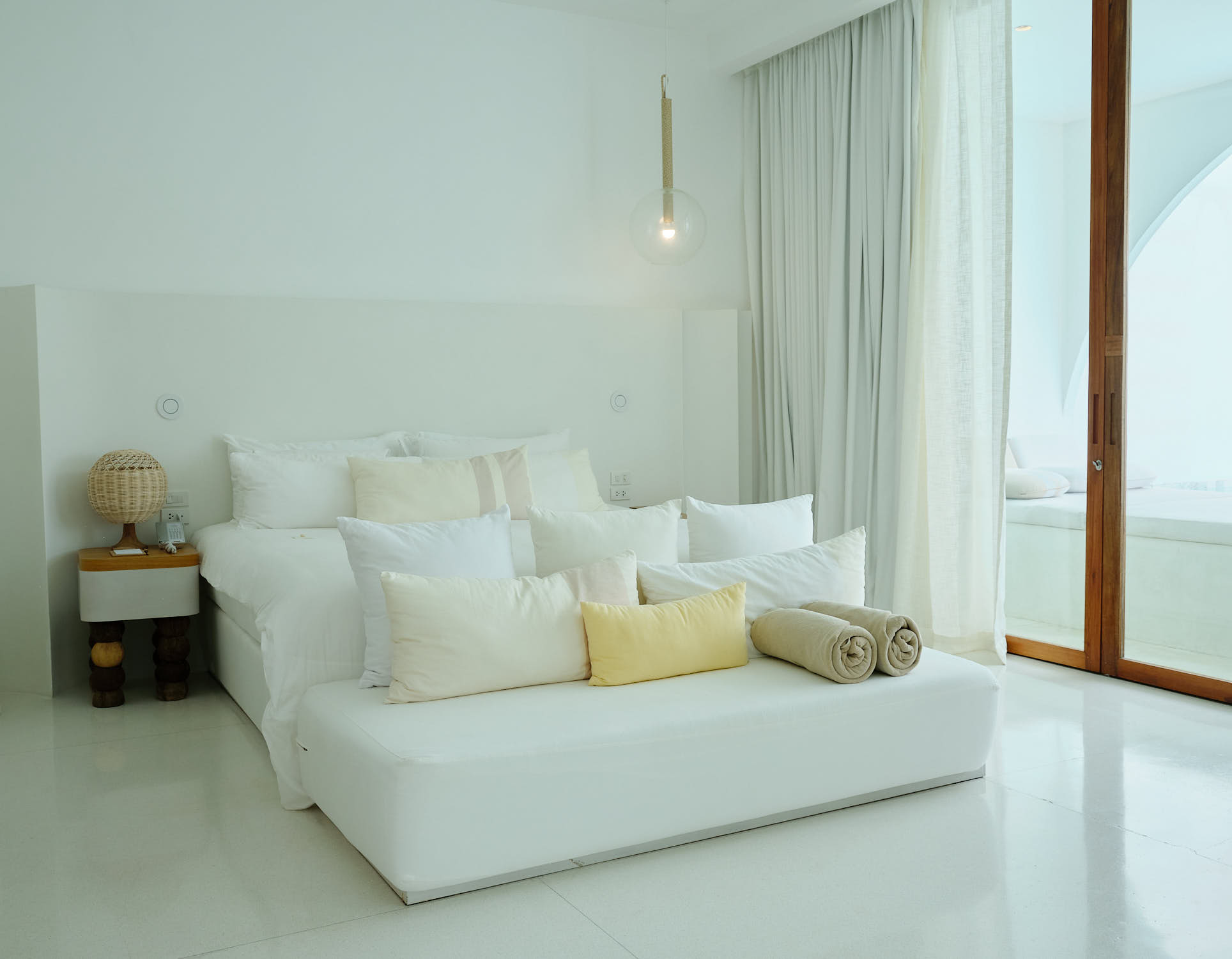 While the room itself was impressive, the best part was actually right outside the huge glass doors: the stunningly beautiful private pool. With views of the sunrise and the endless ocean views, this was the perfect place to cool off on a hot day, or to get some relaxation on the bed near the pool. I can't say enough about how much we enjoyed having this private pool, especially in the age of social distancing.
We primarily stayed at the resort, but Koh Samui has so much to offer that we had to visit some of our favourite sites. This included The Library hotel, and the excellent beachfront dining experience they provide at The Page. Normally, it's difficult to get a reservation on the beach, but with tourism down so much, we didn't have any issues.
On a number of nights, we also made it over to The Library for drinks and tapas at the Drink Gallery. Without exception, every drink and every meal we had at the hotel was excellent. On our previous trip, we spent a lot of time at this wonderful hotel and didn't regret doing it again on this trip. It's well worth a visit and a tour of the beautiful environment with its unique architecture.
As with all of Thailand, the main city centres are full of excitement and energy, and tons of places to eat. The hotel resides right on the main road and we made good use of that convenience by heading into town for drinks and dinners. One of our favourite places to eat was Malee Kitchen Uptown; the food and service there is fantastic and the prices very reasonable.
When we visited Koh Samui in 2018, we went to Pride Bar and had a great experience with good drinks and great company. We met the owner's dog (his name unfortunately escapes me at the moment) and had a ton of fun playing with him; he's a real free spirit and practically rules the street. It was such a joy to see him again, in all his mischievous glory!
Something we try to do when travelling is to always take the time to enjoy sunrise or sunset. Since our hotel was on the east end of the island, we woke up early every morning to welcome the sun to a new day. Koh Samui never disappoints and always produces gorgeous sunrises.
People always ask me if the GFX 50R can be used as a travel camera because of its size and how it's perceived by others as a professional camera. I often respond that the way in which you use the camera is more important than the size; if you're discrete, people won't notice how big the camera is and will act naturally.
Well, I might have to change that response, because as you can see in the image below, while I was posing for an image to be captured of me with the 50R, it attracted the attention of a stranger who decided to join me for the picture! I guess the 50R isn't so discrete after all, but it's never a bad thing to meet a stranger and make a new friend!
During these challenging times, it's hard to think about travel and fun, but I hope that this post inspires you to start researching your next trip. I'm confident that things will get better for all of us in the near future, and we'll all be back to hopping on planes, trains and automobiles to explore the greatest destinations on this beautiful earth of ours.
I wish you and your families good health and many happy travels in the near future.