I've had Penang Island on my bucket list for a long time and finally got the chance to visit this super cool food and architecture heaven off the west coast of Malaysia. Penang State has a population of around 1.8 Million as of 2019 and George Town, the UNESCO World Heritage Site, is a small microcosm with around 250,000 people calling it home. And what a home it is!
History
Malaysia has an interesting history, but Penang and George Town take it up a notch, with so many different influences shaping its current culture including the Malays, British, Chinese, Indians, Japanese, and Singaporeans. Each has played a role over the past two centuries,. Two World Wars also took their toll, especially World War II which included Japanese occupation and bombing of the city.
Unique Mix of Cultures
Take all of that over two centuries and you end up with a unique and incredible mix of cultures, architecture, food, and languages. You can see a mix especially of British colonial, Chinese, and Indian architecture across the city. Penang is known in Asia for its food and George Town does not disappoint with excellent food available from Hawker Stands right up to fine dining restaurants.
Itinerary
We decided to book five nights in George Town so that we could explore and eat as much different food as possible. Our goals were to explore on foot as much as possible so we looked for hotels right in the old city's core. We decided to try out two hotels for this trip with three nights in a colonial style hotel and two nights in a new modern hotel.
Hotels
The hotel you choose in George Town is very important because you'll want to walk around as much as possible, but the intense heat and humidity will make long walks challenging. I'd highly recommend staying at a hotel in the middle of the old town so that you have access to everything you'd want within a short walking distance.
We looked at several hotels before landing on two. We looked at The Edison, Eastern and Oriental Hotel (known locally as the E&O), Seven Terraces, Eight Rooms at Macalister Hotel, The Blue Mansion, and a new hotel, The Prestige. Because we were travelling near the Chinese New Year, several of our top picks were sold out (Seven Terraces, Blue Mansion and Eight Rooms), so we decided to go for three nights at The Edison and two nights at The Prestige.
The Edison Hotel
The Edison turned out to be incredible and is now in our top tier of hotel experiences. It's everything a boutique hotel should be. It has a stunning historic building with so many stories to tell, it's been tastefully restored with all the character intact, but also fulfilling all the modern traveller's needs. The beautiful building and spacious rooms aside, what really sets The Edison apart is the staff.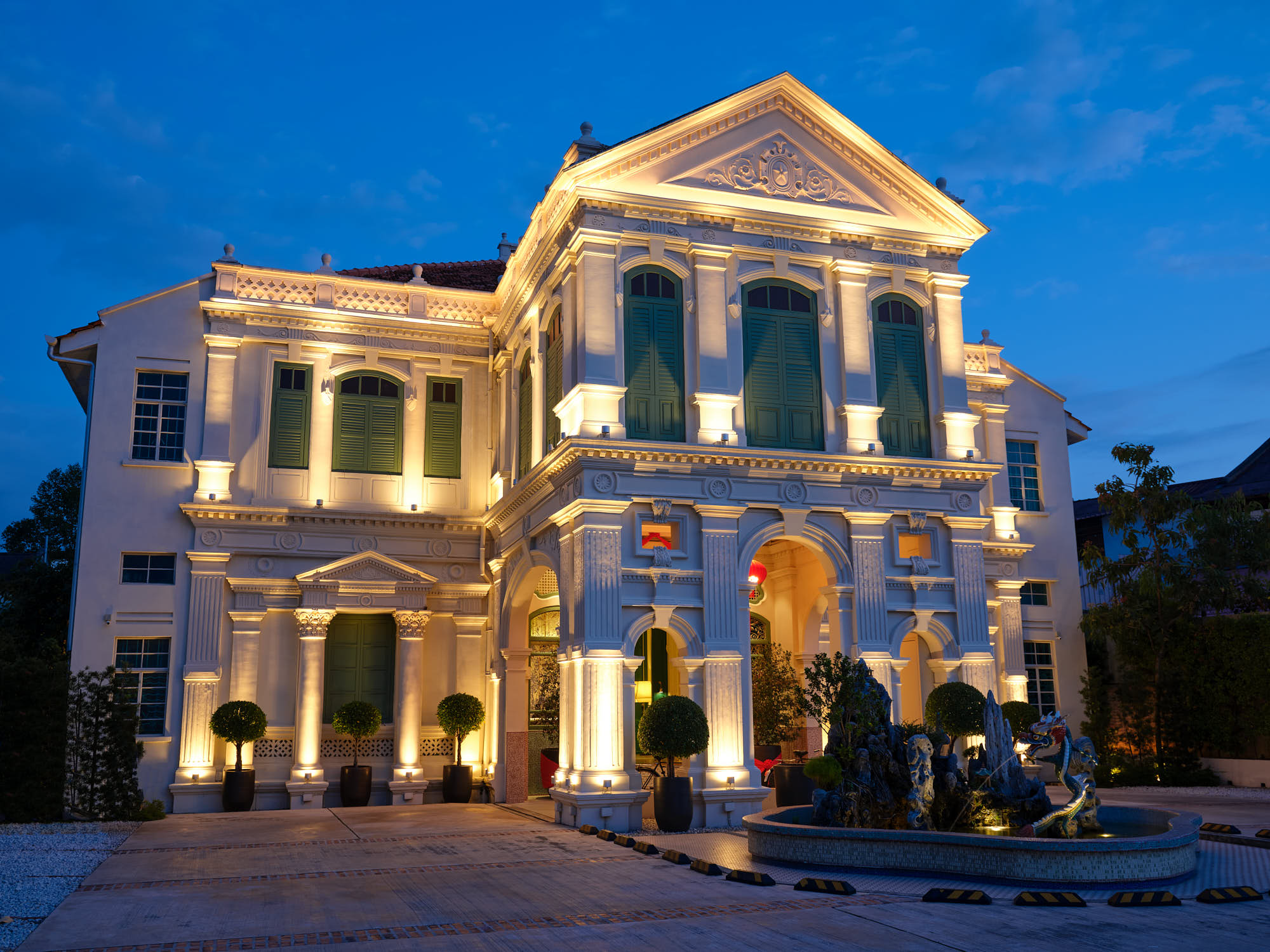 The team running the hotel has managed to create the perfect balance between being there to help you, but also staying out of your way so you can truly enjoy the building. I was fortunate to run into the Executive Director and shared my experience of feeling like this gorgeous mansion was my own and that the staff felt more like helpful family than employees. She was overjoyed to hear that because that's exactly the vibe they're looking to create.
The building is located in the heart of George Town with Chulia Street around the corner with its restaurants, cafes, hawker stands, all within a few minutes walk. We found The Edison a great location from which to explore George Town.
The building has a fascinating history; as per The Edison's website, "The building was commissioned and built in 1906 as a residence for a tycoon named Yeo Wee Gark. It was designed by David Nathaniel, a popular architect at the time, and was only transformed into a hotel after the Second World War. During the Japanese Occupation of Penang, the building was used as their administrative centre.
The building was designed with many of the opulence associated with the wealthy, for instance generous open space planning and the extensive use of timber, metal, tile and glass. In the mid-1940s, the owner converted the building into a hotel. Thereafter several architectural and interior enhancements were made in the 1960s to better the hotel's offerings.
It wasn't till late 2014 that a comprehensive transformation of this beautiful Colonial mansion – planning, design, restoration, renovation and it's rebranding as The Edison George Town, Penang began and was rebirth mid-July 2016."
If you get the chance to talk to the staff, ask them about some of the hotel's less well known uses during its long history!
The Prestige Hotel
The Prestige is part of a huge new complex that includes restaurants, shops, cafes, a dispensary, and other as-yet unopened businesses. The hotel is new, but built in a colonial style. In pictures, the hotel looks incredible and the rooms look large and spacious. The reality is unfortunately not as good; it's clear the photographers used very wide angle lenses to make everything look larger.
The hotel itself is very clean (as it should be considering it's new), and the service is good, however the hotel lacks any kind of character. You could put 10 different brand names on the sign outside and you wouldn't be any wiser; that lack of character, I think, is going to lead to the slow downfall of this hotel.
The design is interesting and it should be because the architects are the well known and loved Ministry of Design from Singapore; unfortunately, the design feels contrived and is clearly aimed at looking good on Instagram, Tiktok and social media, rather than looking good to the eye.
For the price we paid, the hotel was a good value, but I imagine the management has higher hopes and desires and will lift the price once more people hear about it (or more likely see it on social media posts from Key Influencers). This hotel to me, was a solid 4-star experience, but didn't add anything of value to the trip besides being a place to sleep.
Other Hotels to Consider
Given our fantastic experience at The Edison, that would be our first choice, however if it's sold out or if you want to book more than one hotel, I can also recommend the Eastern & Oriental Hotel and Seven Terraces. Both are housed in beautifully restored buildings. On a future trip, we'd like to definitely try Seven Terraces because the owner was the founder of the highly regarded Galle Fort Hotel in Sri Lanka.
Getting Around
George Town is a walking town, but if the heat and humidity are too much to bear, you can use Grab, the popular ride hailing app. The drivers mostly speak english, and if they don't, the app has a built-in translation capability that will convert the driver's written words into english and vice versa. We found Grab to be very reliable and easy to use. 
One tip, avoid the "executive" cars as they are nothing more than old worn-out taxis parading as executive cars. Stick with the Grab or Grab Extra for the best value for your money. Grab also has vans available which are very convenient for getting to and from the airport, but book early since they are more rare and can take some time to arrive.
Food and Restaurants
Penang is all about food and George Town delivers in spades! Bring your stretchy shorts because you're going to leave bigger and happier than you arrived! Food is such a fierce competitive and proud industry in Penang that any restaurant that survives is pretty much guaranteed to be good.
Here are a few places that we tried with excellent food, ambience and service:
Areas and Places to Explore
All of George Town is full of history and interesting photography opportunities. The areas we explored and thoroughly enjoyed included Little India, Chinatown, the Clan Jetties, the Street Art areas near Beach Avenue, Art Lane, China House, Blue Mansion, Penang Hill, Chulia Street and Love Lane. Pretty much every street in the old town area (eastern side of George Town) is worth exploring, even if just to see the colourful buildings and intricate materials used in the entranceways to the shophouses. 
Something that we do on all of our trips is to not visit one important "must-see" location; this way, we have a good excuse to come back to a city we've visited before. This time, the one item we missed was the Kek Lok Si Temple, or KLS as the locals call it. Because of Chinese New Year, the temple was closed, but also lit up with lanterns and lights; this had the double whammy of massive traffic to see the outside of the temple and no ability to explore the inside, so we gave it a pass and will visit it in the future.
Conclusion
As you've likely determined by reading the above, we really loved George Town. It has such a unique mix of cultures, food, and people. We loved how welcoming the locals are, and how passionate they are about food. There are a number of top notch hotels with unique and compelling histories to indulge in.
Getting around is easy on foot, bicycle or by using Grab. There are beaches nearby as well, but we didn't explore them on this trip, primarily because we just finished a beach trip in Phu Quoc. We'll definitely make our way back to George Town soon and are already looking forward to exploring more of this amazing town.
I hope you've enjoyed reading about our experience visiting George Town. If you have any questions, feel free to leave a message below; you don't have to register to post a comment or question, and your email address will not be shown to the public.