Bali is an Indonesian island that's located in the westernmost end of the Lesser Sunda Islands. It's a popular travel destination known for its beautiful beaches, rich culture and picturesque landscapes. Bali is often referred to as the Island of the Gods, and it's not difficult to see why. The island is home to thousands of Hindu temples, and the local Balinese people are deeply spiritual and celebrate their traditions and culture with pride.
One of the main attractions of Bali is its stunning beaches. The island is surrounded by crystal-clear waters that are perfect for swimming, surfing and other water sports. Some of the most popular beaches include Kuta, Seminyak and Jimbaran. In addition to its beaches, Bali is home to several natural attractions, such as the rice terraces of Tegallalang and the majestic Mount Batur. These breathtaking natural landscapes offer a glimpse into the island's stunning beauty and have become popular tourist destinations.
Bali is also known for its unique and fascinating culture. The island is home to a large number of Hindu temples and shrines, which play an important role in the local culture. Visitors can witness traditional dances, such as the Barong dance, and explore the island's rich history and traditions. Bali is also famous for its arts and crafts, including batik textiles, wood carvings and silver jewelry. Tourists can visit local workshops and markets to see these crafts being made and purchase handmade memories to take home.
We've visited Bali many times over the years. It was the very first place I took my then-new Fujifilm GFX50R. The post related to that trip remains as one of the most read on this website. On that previous trip, we had the pleasure of visiting one of the world's best hotels, the Ritz Carlton Mandapa Reserve in Ubud. If you ever get the chance to stay at or visit this hotel, it's well worth the effort and money. For this trip however, we focused on three hotels across Canggu and Ubud.
Canggu
Ever since the pandemic, Canggu has popped up again and again on YouTube and TikTok. It's become the home of some very popular vloggers such as Lost Leblanc (also a Canadian native). Leblanc's vlogging style makes it hard not to fall in love with his version of Canggu, so we decided to see for ourselves if this area matches up to the hype.
Canggu is a coastal village located on the southwest coast of Bali, Indonesia. It's a relatively new destination that has quickly become popular among travellers who're looking for a more relaxed and laid-back atmosphere than the bustling tourist areas of Kuta and Seminyak. Canggu offers a mix of beautiful beaches, stunning rice paddies, great food and a vibrant surf culture. Canggu is located 15 km north along the seawall from the Denpasar Airport.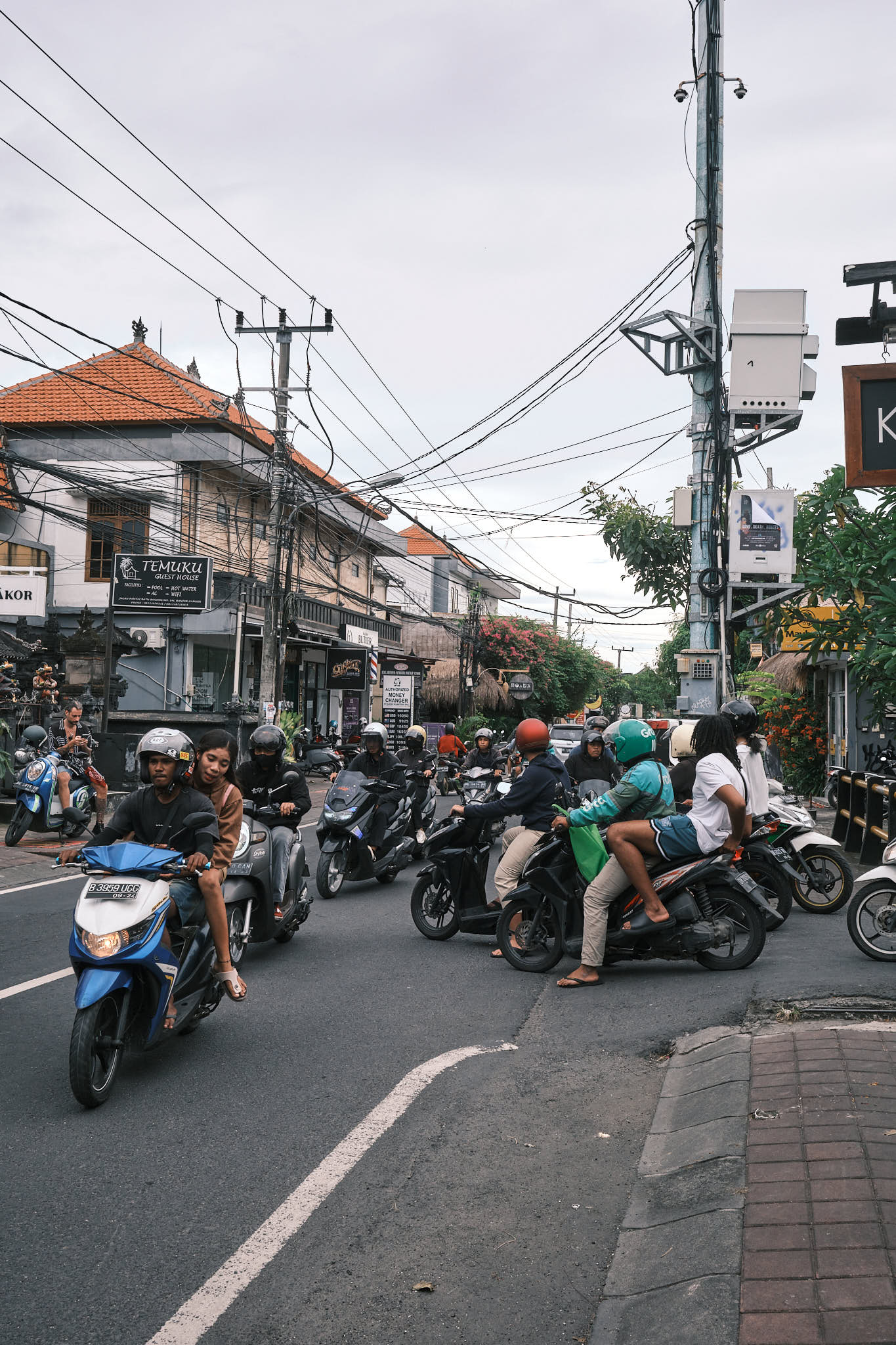 Fortunately, Bali hasn't built a highway along the seawall, so you need to take a longer route to get to Canggu. Unfortunately, Bali also hasn't invested much in infrastructure over the years and the relatively short ride took us an astounding 3.5 hours from the Denpasar Airport. We were stuck in endless traffic jams that barely moved as the minutes and then hours ticked by. Given all the billions of dollars invested in luxury resorts and villas, it's shocking that the infrastructure remains so rudimentary on the island. Maybe all the money is going to other parts of Indonesia that need it more?
After our long journey from the airport (this is also another good reason to always take a washroom break before leaving the airport as you never know how long it will take to get to your hotel), we finally arrived at Blossom Luxury Villa. Our goal in staying at this hotel was to experience what it would be like to potentially own a villa one day in Bali. Blossom is a series of villas that share a common entrance, with the company providing cleaning services and a free breakfast at a restaurant that's also accessible to the public.
One of the main attractions in Canggu is its beaches. The area has a number of stunning beaches that are perfect for surfing, swimming, and sunbathing. The most popular beaches in Canggu are Batu Bolong Beach, Echo Beach, and Berawa Beach. These beaches are lined with cafes and bars where visitors can enjoy a cold drink or a meal while watching the surfers catch waves. Our hotel was within a five minutes walk of Batu Bolong Beach. We took full advantage of this by spending sunset there almost every night.
Canggu is also known for its rice paddies and lush green scenery. The rice paddies in Canggu are some of the most picturesque in Bali, and visitors can take a walk or bike ride through the fields to experience the beauty of the area. Canggu also has several yoga studios and wellness centers that offer a range of classes and activities for those seeking relaxation and rejuvenation.
Foodies will love Canggu, as the area has a vibrant food scene with a wide range of restaurants and cafes. The area is particularly known for its healthy and organic food options, with many vegetarian and vegan restaurants. Visitors can also find a range of international cuisine, including Italian, Mexican, and Japanese.
Overall, Canggu is a great destination for those seeking a more relaxed and authentic Bali experience. With its beautiful beaches, stunning scenery, and vibrant surf and wellness culture, Canggu offers something for everyone.
Photographer's Paradise
Canggu is a photographer's paradise, with its stunning beaches, rice paddies and vibrant culture. Here are some of the top photography spots in Canggu:
Batu Bolong Beach: This beach is one of the most popular in Canggu, and for good reason. With its stunning sunsets and surfers catching waves, it is a must-visit spot for photographers.
Echo Beach: This black sand beach is another popular spot for photographers, particularly those interested in capturing surfers riding the waves.
Tanah Lot Temple: This is a famous Hindu temple located on a rocky outcrop overlooking the ocean. It is a popular spot for photographers to capture the temple at sunset, with the waves crashing against the rocks below.
Overall, Canggu offers a wide variety of photography opportunities, from the beaches to the rice paddies to the local culture. Whether you're interested in landscape, portrait, or action photography, Canggu has something for everyone.
Blossom Luxury Villa
For this leg of the trip, we wanted to get a feel for villa life so we chose the Blossom Luxury Villa. Its location near the beach end of JL Pantai Batu Bolong turned out to be very convenient and ideal. The villas themselves were beautiful and well appointed. The only downside to this development is that it has a nightclub next door (our villa was right up against the club) that plays loud music until 2AM every night. It didn't bother us much, but I can imagine light sleepers being annoyed at the noise.
Our villa was spread out over two floors and had our own private pool. Unfortunately for me, I caught COVID-19 on the 2nd day in Bali, but fortunately, the villa was the perfect place from which to relax and recover. I really loved the design of the villa with its large sliding glass doors and two washrooms spread out over the two floors. The only odd design element was the open ceiling to the main washroom which allows the person upstairs to see what's going on down below.
The staff were incredible and super friendly and helpful. There's a restaurant as part of the villa development called Sari Kitchen & Community, which is public facing. The restaurant is a gem in its own right. It has very high ratings by locals and tourists alike and would fill up quickly in the morning, with both locals and digital nomads. By getting down there before 9am, we were assured a great seat. Breakfast included one main, one side and a drink; the food choices were plentiful and the taste perfect. Since we had breakfast there every morning, we never tried lunch or dinner, but we noticed it being busy during those times.
Recommended Restaurants
Canggu has a very diverse and modern dining scene. We barely tapped the surface with four nights there, but we did come across a few restaurants that we would definitely go back to in the future. We loved Mason the most and actually went back there a second time. Penny Lane had a great vibe going in the evenings. Lacalita was a great place to have afternoon cocktails on the outdoor patio.
Focusing on the beach area, Skool Kitchen and The Lawn had high quality food with a great beach front environment. We also enjoyed watching the waves and sunsets at the many small restaurants located on the sand along the beach. Finally, and perhaps one of our most favourite experiences was at the new Como Beach Club. Being seated outside and watching the sun go down with wonderful food and cocktails was exactly what a vacation should be about.
There were more restaurants we either tried or our local friends recommended; they included:
Safety and Security
We felt totally safe and secure in Canggu, however we did come across a significant safety issue in Ubud later in the trip which we understood from locals also happens in Canggu as well. If you use ride sharing apps, be aware that the "Taxi Mafia" as the locals call them could approach your ride share and physically extract you from the vehicle. The physicality of the whole experience was scary and beyond anything we've experienced anywhere in the world.
Ride sharing is legal in Bali, but the "Taxi Mafia" claims that it's illegal. As a tourist, I only care about staying within the law and not imposing on the locals, but I really do hope the local politicians sort this out as our experience in Ubud was beyond the pale and could easily hurt the economy in the future if tourists stay away due to safety reasons. More details to come when the Ubud post is ready.
Another thing to watch out for are rogue ATM machines. We heard of many stories of ATM machines stealing people's PIN numbers or cards and PIN numbers together. It's best to come to Bali with currency in hand or to find a reputable local bank and use their machine. ATM fees are also very high when considering the low 2.5MM IDR limit works out to only USD 165. In Canggu, there weren't as many bank machines as in Ubud so you should plan your cash needs ahead of time.
Conclusion
Overall, Canggu was an excellent way to start our Bali adventure. It's food and drinks scene are top notch and with so many restaurants and bars under construction, looks set to continue to grow even more. Canggu has something for everyone and I absolutely loved the energetic vibe (albeit it's a youth oriented vibe); I will definitely come back again. If I were to live in Bali, Canggu would be my top choice.
Up next on our Bali trip will be a return to one of our favourite places, Ubud!
Disclaimer: As an experiment, parts of this post have been written by (the incredible) ChatGPT, but verified and augmented by the human author.